Journey with us on an exploration of one of Kenya's hidden gems – the Loisaba Tented Camp. This heavenly retreat tucked away in the vast landscapes of Laikipia promises an African safari that is as breathtaking as it's unique.
Experience the Intimacy with Wildlife
Nestled within the heart of a private 56,000-acre wildlife conservancy, the Loisaba Tented Camp invites you to commune with some of Africa's most fascinating creatures.
Feast your eyes on majestic elephants, agile antelopes, and sun-basking lions all from a safe distance.
Undertake thrilling game drives during the heat of the day or under the cloak of the night.
Witness the endearing sight of wild dogs and rare Grevy's zebras in their natural habitat.
Stay in Luxury Amidst Rugged Wilderness
The Loisaba Tented Camp's accommodations and amenities effortlessly marry luxury and eco-friendliness.
Choose from seven spacious ensuite tents, each offering expansive views of Laikipia's landscapes through floor-to-ceiling windows.
Enjoy the sustainability-forward design, featuring solar power and sustainable construction materials.
Luxuriate in infinity pools overlooking the wilderness, offering a refreshing dip amidst nature's beauty.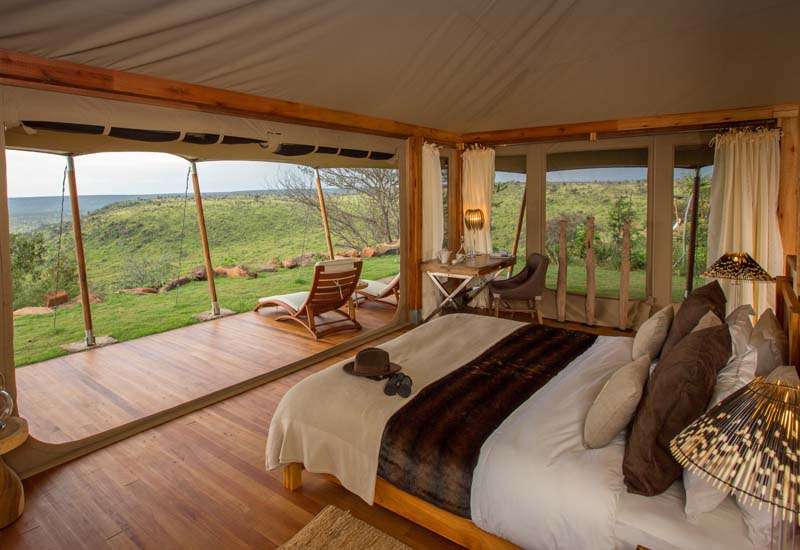 Indulge in Epicurean Delights
The Loisaba Tented Camp ensures a gastronomic delight as memorable as the wildlife experiences.
Taste a wide array of cuisines, from local Kenyan delicacies to continental dishes, all prepared with locally sourced ingredients.
Bask in the romantic ambiance of bush dinners under the starlit African sky or enjoy a hearty breakfast in the wild.
Outdoors and More
Apart from game drives and wildlife sightings, Loisaba Tented Camp offers thrill-seekers an array of adventurous activities:
Engage in exhilarating trekking or horse riding excursions across the varied terrain of the Loisaba Conservancy.
For a marveling perspective of the lands, take a helicopter flight, courtesy of the Tropic Air Helicopters.
Visit local Samburu and Maasai communities to discern the authentic Kenyan culture and tradition.
Commitment to Conservation
The Loisaba Tented Camp is not just a luxury retreat, but a passionate architectural tribute to the surrounding ecosystem.
The camp pioneers successful conservation models, reinforcing the idea that communities can benefit directly from wildlife tourism.
Experience a flourishing wildlife population thanks to active anti-poaching patrols, sniffer dogs, and collaborations with local communities.
Explore Loisaba Tented Camp
The Loisaba Tented Camp is a dream destination for those seeking a unique African adventure marked by luxury, wildlife, and an authentic connection to nature. Come, discover the boundless beauty of Laikipia and experience the magic of Kenya at the Loisaba Tented Camp.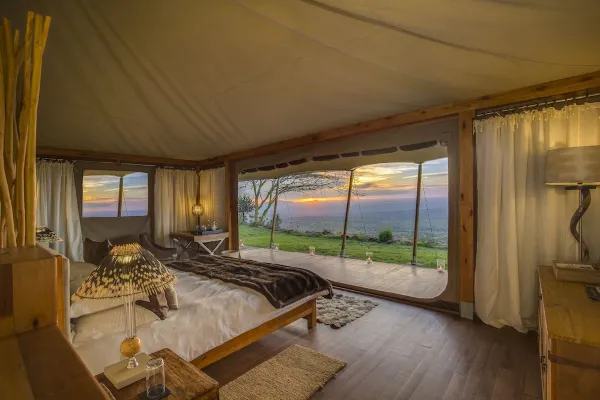 The Serenity of Star Beds
The Loisaba Tented Camp also offers an out-of-this-world accommodation, the Loisaba Star Beds.
Credited as a pioneer of the famed 'star bed' concept, you can expect to have the night's sky open wide above your warm and cozy bed.
Each Star Bed is strategically positioned to offer an unparalleled view of the wilderness, while also ensuring privacy and comfort.
The handcrafted four-poster beds sitting on raised wooden platforms can be wheeled out onto the open deck for a night under the stars.
Treetop Adventures
Dare to experience the wild from a higher perspective? Loisaba Tented Camp has you covered.
Embark on a treetop canopy walk, suspended above the ground, granting you an unobstructed perspective of the surrounding wilderness.
For a thrilling overnight stay, opt for the open-air machan-style treehouses. Revel in the serenity of being aloft while cocooned in luxurious comfort.
Flavorsome Dining Experiences
The dining offerings at Loisaba Tented Camp are designed with utmost care to give you an unforgettable experience.
Wake up to delightful breakfast hampers delivered straight to your tent or star bed.
Enjoy lunches comprising fresh salads, premium meats, and homemade pasta, accompanied by a wide selection of wines.
Indulge in the warmth of traditional African barbeque, rounded off with roasted marshmallows over a bonfire.
Commitment to Community
A stay at The Loisaba Tented Camp contributes to the betterment of the surrounding communities.
The Camp is actively involved in community upliftment by providing employment, training, and education opportunities.
Profits from the Camp go into community development projects like water accessibility, healthcare, and infrastructure.
A Perfect Destination for Events
Loisaba Tented Camp is not just a relaxing getaway but also an ideal venue for special occasions.
With breathtaking panoramic views and personalized service, it makes for a unique location for intimate weddings, family events, or corporate retreats.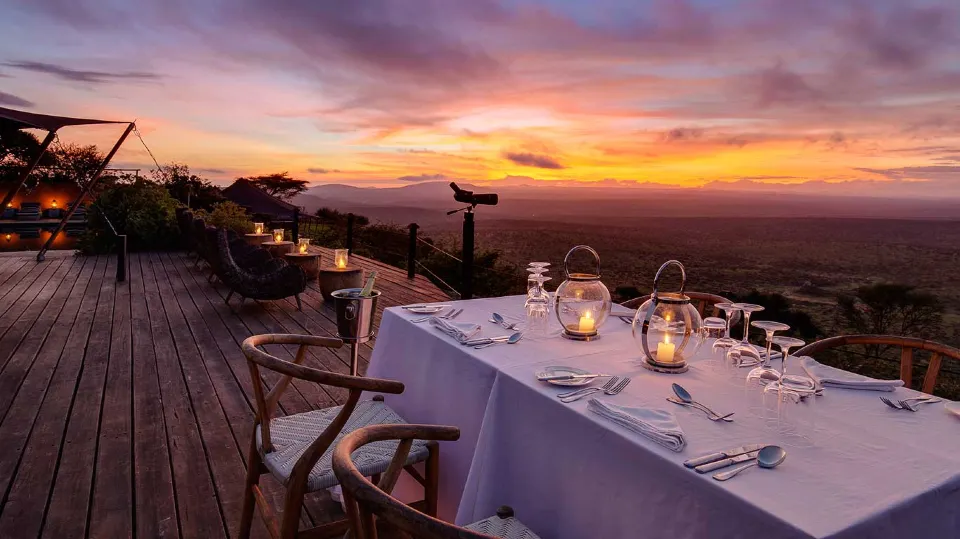 Guided Tours by Expert Rangers
A visit to Loisaba Tented Camp is never complete without the exciting game drives led by professional, well-trained guides.
Experience the thrill of guided tours, designed to educate while sparking wonder about Loisaba's rich biodiversity.
Gain invaluable insights into resident animal behavior, local flora, and the evolving landscapes of the African terrain.
A Heaven for Birdwatchers
Loisaba Conservancy provides a spectacular setting for birdwatching with over 260 recorded bird species.
Lose yourself among the colorful variety of birds, from the exquisite Superb Starlings to the rare Verreaux's Eagles.
Enjoy bird spotting guided by experienced ornithologists who will reveal the fascinating world of avian life.
Innovative Research & Conservation Programs
Loisaba Tented Camp is known for its innovative conservation methods and participation in various research programs.
The ongoing lion research project enables guests to partake in tracking these magnificent beasts, contributing to vital research.
Partnering with entities like The Nature Conservancy and Space for Giants, Loisaba is committed to preserving Africa's crucial ecosystems and the wildlife that inhabits them.
A Venue for Vital Wildlife Corridors
Playing host to integral wildlife corridors and migration routes, this retreat witnesses enchanting seasonal wildlife movements.
Witness elephant corridors used by these astonishing mammals as they traverse through different landscapes.
Witness the Grand Migration, if the timing of your visit aligns with this nature spectacle, where thousands of animals move across the stunning Loisaba landscapes.
Responsible Luxury
Celebrate nature whilst ensuring you're leaving a gentle footprint with Loisaba Tented Camp's eco-luxury approach.
Enjoy a stay that uses renewable energy sources and sustainable waste management systems.
Appreciate the local-themed décor and furnishings crafted by local Kenyan artisans, promoting fair-trade practices.
Loisaba Tented Camp is a celebration of Africa: its stark wilderness, its vibrant wildlife, and most importantly, its resilient communities. Here, every visitor gets to be a part of a tale – a tale of adventure, luxury, conservation, and community upliftment – woven seamlessly into every aspect of the Loisaba experience.