Nestled in the heart of the Costa Rican rainforest lies the luxurious and eco-friendly Nayara Tented Camp. This unique destination is a perfect getaway for those seeking a blend of adventure, relaxation, and breathtaking beauty. But how can you get to this extraordinary part of the world? In this article, we'll go through all the steps and options for reaching Nayara Tented Camp and ensuring a stress-free, unforgettable experience.
Step 1: Arriving in Costa Rica
To get to Nayara Tented Camp, you'll first need to fly into Costa Rica's main international airport: Juan Santamaría International Airport (SJO) in San José. Many airlines, including American, United, and Delta, provide direct flights from major cities in the United States, Europe, and across Latin America.
Step 2: Take a Domestic Flight or Private Charter
Once you've arrived in San José, you have a couple of options to travel to Nayara Tented Camp. One of the fastest and most comfortable ways is by taking a domestic flight. There are two domestic airports nearby:
La Fortuna Arenal Airport (FON): This small, local airport is conveniently located just a 20-minute drive from Nayara Tented Camp. Nature Air and SANSA Airlines operate daily flights from SJO to La Fortuna Arenal, with a flight time of approximately 25 minutes. After landing, you can easily arrange a taxi or private transfer to take you to the camp.
El Tanque Airport (ET) in San Carlos: A slightly further option, El Tanque Airport is approximately a 40-minute drive from the camp. Domestic flights from SJO are also available to El Tanque, operated by Nature Air and SANSA Airlines. Once you land, you can book a taxi or private transfer to reach your destination.
Alternatively, you can opt for a private charter flight for added luxury and convenience. Several companies, such as Aerobell, offer charter services from SJO directly to either La Fortuna Arenal or El Tanque Airport.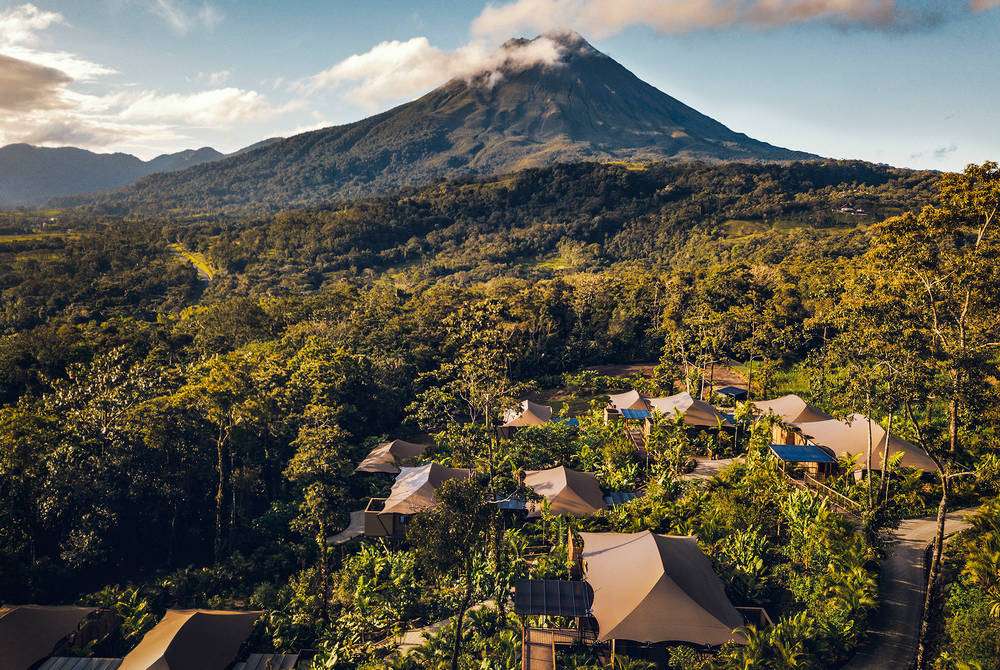 Step 3: Enjoying the Scenic Drive
If you prefer a road trip, you can also reach Nayara Tented Camp by car. Renting a vehicle at SJO is a popular option for visitors, as it allows them to explore the beautiful Costa Rican countryside at their own pace. The drive to Nayara Tented Camp from the airport takes roughly 3-3.5 hours, depending on traffic and weather conditions. Be prepared for stunning views of mountains, lush forests, and abundant wildlife as you travel.
For a more laid-back alternative, you can book a private transfer service or shared shuttle that will pick you up directly from the International Airport Juan Santamaría or a nearby hotel and take you to Nayara Tented Camp. Several companies, such as Costa Rica Explored and Interbus, provide these services.
Step 4: Arrival and Check-in at Nayara Tented Camp
Once you've completed your journey, be it via air or land, you'll be welcomed by the friendly staff at Nayara Tented Camp. Check-in times are typically at 3 PM, and check-out is around noon. While you're settling in, take a moment to appreciate the stunning surroundings and let the magic of the Costa Rican rainforest embrace you.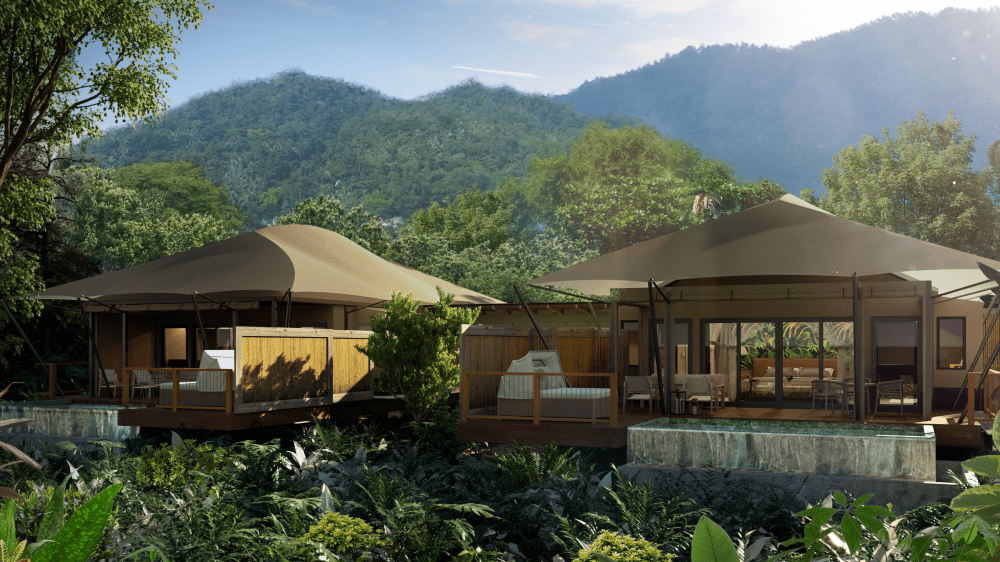 Step 5: Explore and Experience
With its prime location in the Arenal Volcano National Park, Nayara Tented Camp offers a wide array of activities, from adrenaline-pumping zip-lining and white-water rafting to more tranquil pursuits like birdwatching, hot springs, and nature hikes. The camp also features world-class dining, spa facilities, and relaxing pools – all with an emphasis on sustainable practices and luxurious eco-conscious accommodations.
You'll enjoy more than just luxurious accommodations at Nayara Tented Camp. Discover a variety of eco-friendly adventures, including rainforest hikes, wildlife excursions, and waterfall explorations. Couples can also indulge in soothing spa treatments and candlelit dinners by the Arenal Volcano at the camp.
Step 6: Sustainability and Conservation
Sustainability and conservation are important to Nayara Tented Camp. By taking a variety of measures, the camp strives to minimize its ecological footprint and actively contribute to the preservation of Costa Rica's natural beauty. The local community will benefit from your participation in eco-conscious practices and contributions.
Costa Rica experiences two main seasons: the dry season between December and April, and the rainy season from May to November. Plan your trip accordingly.
Make sure you have all the necessary travel documents, like a valid passport and a visa if required.
Travel insurance is always a good idea when traveling internationally.
Learn some basic Spanish phrases before arriving in Costa Rica, as locals might not speak fluent English outside of tourist areas.
Getting to Nayara Tented Camp is a journey filled with wonder and excitement. Whether you choose to fly or drive, the beauty of Costa Rica will unfold before your eyes as you embark on this unforgettable adventure. Now that you know the various options for reaching this extraordinary destination, pack your bags, and prepare for the experience of a lifetime.