Camping has captivated the human spirit for centuries, providing an escape into the heart of nature. It's everything from an easy getaway, a memorable family adventure, to a transformative journey into introspection. Whether you're a wilderness explorer at heart or a first-time camper dipping your toes into the outdoor life, camping can be custom tailored to anyone's liking. Join me and let's dive together in exploring the Ozark Trail, 3 Person Camping Dome Tent.
Ozark Trail 3 Person Camping Dome Tent
The Ozark Trail 3 Person Camping Dome Tent, is designed for adventurers seeking shelter and comfort while camping in the great outdoors. The tent is constructed with a sturdy frame, a durable fabric shell, and a well-ventilated design that can withstand harsh weather conditions. Easy to set up and fold down, this tent can comfortably fit up to three adult campers or a family with small children.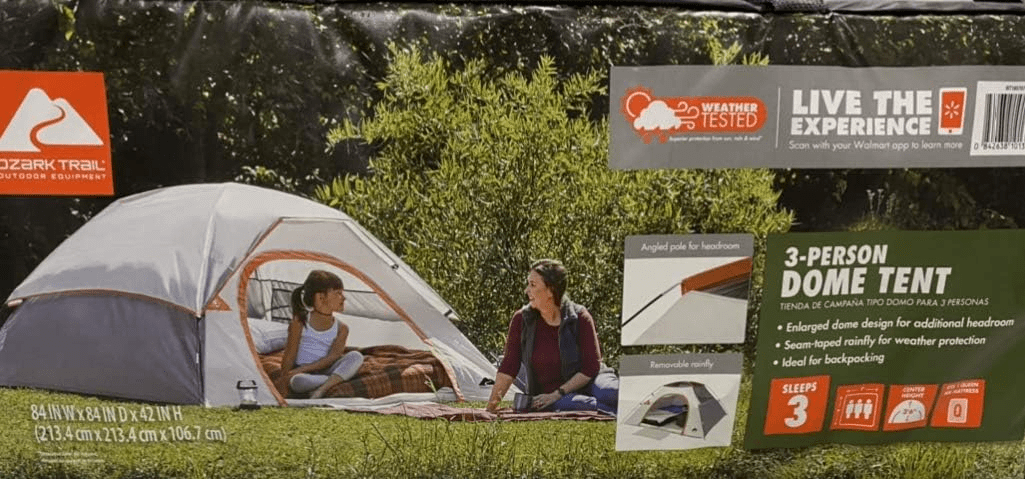 Features
1- Spacious Interior: The tent measures 7 ft x 7 ft and has a peak height of 42 inches, providing ample room for campers to move around and store their gear.
2- Well-Ventilated Design: Windows and vents improve air circulation, preventing condensation and providing a comfortable sleeping environment.
3- Easy To Set Up: With a simple two-pole design and color-coded linings, the tent can be quickly pitched, making it ideal for novice campers or those wanting a hassle-free camping experience.
4- Weather-resistant Materials: Made with a combination of Polyester taffeta and Polyethene, the Ozark Trail tent is designed to protect against rain, wind, and UV rays, ensuring shelter from common elements faced during camping trips.
5- Storage and Portability: The tent comes with a convenient carry bag, making it easy to pack up, store, and transport when not in use.
Pros
Lightweight and portable, allowing for easy transportation and storage
Simple setup process, perfect for beginners and seasoned campers alike.
Provides ample space and ventilation for a comfortable camping experience
Sturdy and weather-resistant materials to ensure protection from the elements
Affordable pricing for a quality camping tent
Cons
Limited to accommodating only three individuals, which may be small for some groups
May not be suitable for extreme weather conditions experienced in certain areas or seasons
Customer Reviews
Customers generally praise the Ozark Trail 3 Person Camping Dome Tent, for its size, ease of set up, ventilation, and affordability. However, some drawbacks mentioned include its limited capacity and the need for extra sealing in heavy rain situations.
Final Words
The Ozark Trail 3 Person Camping Dome Tent is a dependable choice for campers, particularly those looking for a budget-friendly, reliable, and easy-to-setup option. Overall, it's a great investment for individuals and small groups who enjoy regular camping trips and are looking for a tent that provides a comfortable and hassle-free experience.
FAQs
1- How many adults can fit comfortably in this tent?
This tent can accommodate up to three adults or a family with one or two small children.
2- Can I set up this tent alone, or do I need assistance?
The tent's simple two-pole design and color-coded linings make it easy to set up, even if you're doing it alone. However, assistance can make the process even smoother.
3- Is this tent suitable for use in heavy rain?
While the tent is designed to withstand rain and windy conditions, it's advised to apply extra waterproofing and sealing in case of prolonged heavy rain to ensure a dry and comfortable experience.
4- What are the dimensions of the tent when packed in the carry bag?
The packed dimensions are approximately 23.8″ x 6.3″ x 6.3″, making it a compact and portable option for camping trips.
5- How durable is this tent? Will it last for multiple camping trips?
The tent is made with high-quality, weather-resistant materials, designed to provide shelter and comfort over several camping trips. Proper care and use will ensure the tent stays functional and protected for an extended period.