Camping is a thrilling outdoor activity enjoyed worldwide. Yet, there's always the potential for unpredictable weather to interfere with your plans — especially rain. But fear not! With the right tent, a downpour won't dampen your spirit or experience. Here we're bringing you a curated list of the best tents for camping in the rain to keep you dry during those unexpected showers.
Key Considerations
When choosing the perfect tent for camping in the rain, consider these factors:
Water-Resistance: Look for tents with a high water-resistant rating. The higher the rating, the more rain the tent can withstand.
Material: Tents made from high-quality, durable materials can better resist leaks during heavy rain.
Tent Structure: Domes and tunnel structures tend to fare better as water runoff contributes to keeping the tent dry.
Vents: Adequate ventilation is crucial to prevent condensation and dampness inside the tent.
Top Tents For Camping In Rain
Here are some tents that have proven their worth under rainy skies.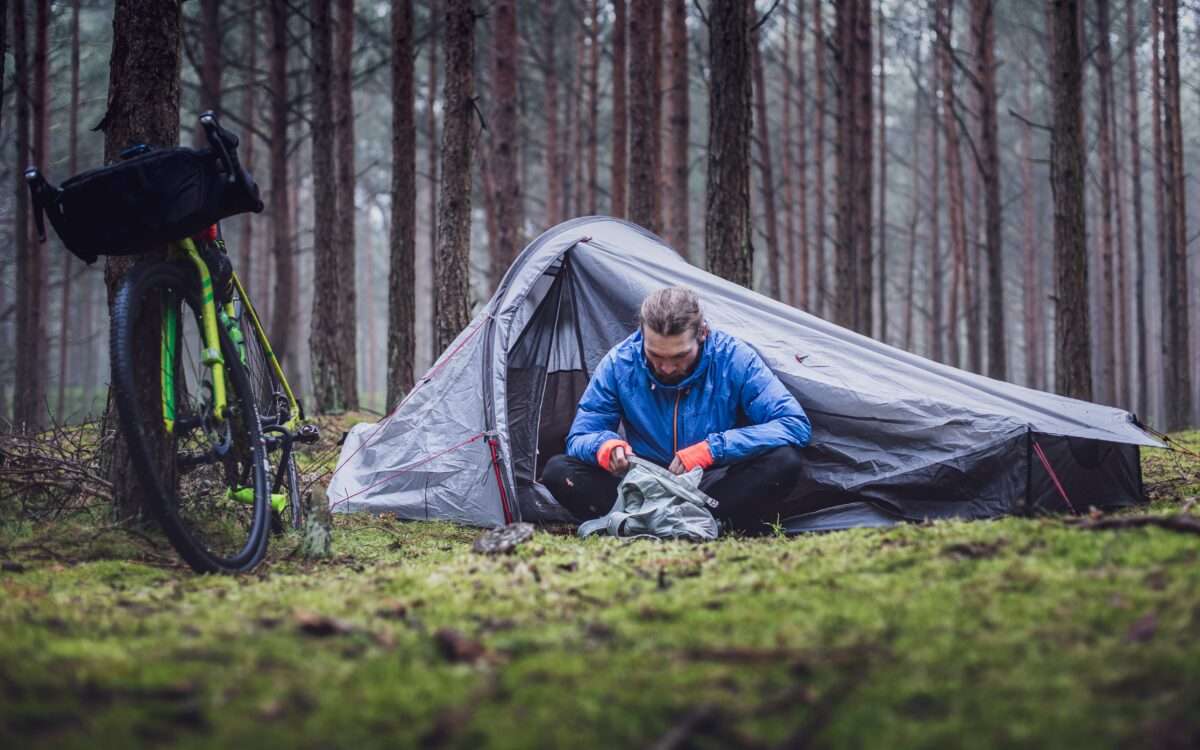 1. Black Diamond Fitzroy Tent: High-Performance Fortress
The Black Diamond Fitzroy Tent, known for its strength and stability, is crafted from ToddTex single-wall fabric. It keeps you dry and warm even in the torrential rains. This tent is freestanding with a low profile to optimally handle high winds. The two interior mesh pockets and a peak pocket provide ample storage space for all your gear. If space, sturdiness, and overall weather performance are your primary concerns, you should certainly consider the Black Diamond Fitzroy Tent.
2. The North Face Stormbreak 2: Optimal Comfort and Practical Design
The North Face Stormbreak 2 Tent shines as a tent for all conditions. Its double-wall construction provides an outer barrier for rain, while the inner lining offers breathability and reduces condensation. This 2-person tent boasts high-low ventilation for better air circulation and a color-coded setup to make your camping set-up a breeze. Lastly, those two vestibules make for excellent gear storage, giving you uncluttered and comfortable sleeping space.
3. MSR Mutha Hubba NX 3-Person Tent: Lightweight Spaciousness
The MSR Mutha Hubba NX 3-Person Tent weighs just 4.8 lbs, making it a top choice for hikers who need to pack light. Despite its small packing size, it does not skimp on comfort or protection. Inside, you'll find the StayDry doors with built-in rain gutters, adjustable rainfly, and two large vestibules. Additionally, the unified hub-and-pole system allows for easy and quick setup. If you're looking for a comfortable rainproof tent that's not bulky, this just might be your answer.
4. Big Agnes Copper Spur Tent: Balance of Comfort and LightWeight
The Big Agnes Copper Spur Tent brings you a blend of design, comfort, and durability. Even though it is lightweight and portable, it's built with a premium, durable rip-stop nylon fabric that is highly water-resistant. Its 4-way, high-volume hub design increases stability and strength while enhancing living space without adding weight. The tent's two vestibules provide ample space for your gear or muddy boots. This is an optimal choice for campers unwilling to compromise comfort for weight.
5. Hilleberg Anjan 2: Durability Meets Versatility
The Hilleberg Anjan 2 Tent is the pinnacle of durability and versatility. Its Kerlon 1000 outer tent fabric and 9mm poles make this tent strong enough for severe weather, while still being light in weight. Detailed with a continuous sleeve and pole tensioner system, this tent is quick to pitch and stable. For ventilation, it is equipped with adjustable vents on the ends. They are protected by the rainfly, but still allow for a continuous flow of fresh air. Ideal for trekkers who are seeking a lightweight yet strong tent, the Hilleberg Anjan 2 is a solid choice.
How to Maintain and Preserve Your Rain-Proof Tent
Now that you have the best tent for camping in the rain, it's vital to know how to maintain and preserve them. Here are some essential tips to help you get the most out of your tent and ensure it's in top-notch condition for the long haul.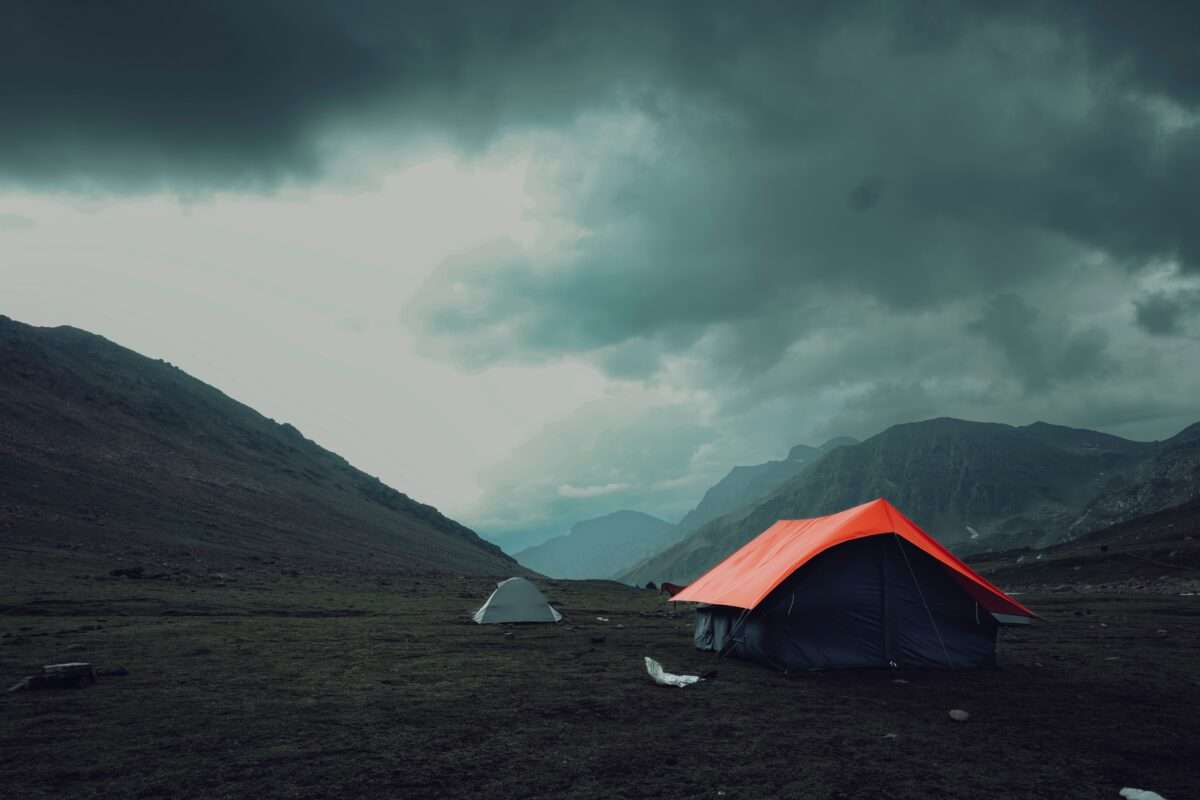 1. Seam Sealing and Reinforcement
Before your first adventure with a new tent, make sure to seal its seams. Use a high-quality seam sealer available at outdoor retailers, and follow the product instructions to ensure a watertight seal. Regularly checking the tent's seams and applying a new coat when needed will prolong the life of your tent.
2. Proper Tent Setup
Choose your tent site wisely, avoiding rocky or uneven terrain that may damage the tent's floor. Utilize a groundsheet or footprint to protect the floor, and ensure the rainfly is well secured and tensioned. This will prevent water from pooling on the tent, eliminating the risk of unexpected leaks.
3. Keeping Your Tent Clean
Dirt and debris can cause wear and tear on your tent material over time, so keeping it clean is essential. Sweep out your tent before disassembling it and ensure it is completely dry before storing it. If necessary, use mild soap and lukewarm water to gently clean the tent's surface.
4. Tent Storage
Store your tent in a cool, dry place, away from direct sunlight. Prolonged exposure to the sun can damage the tent fabrics and coatings. Make sure the tent is thoroughly dry before packing it away to avoid mildew and fabric deterioration.
5. Gear Care
Taking care of your tent also means looking after the zippers, poles, and stakes. Lubricate zippers with a silicone-based lubricant periodically to maintain smooth operation. Clean and dry your poles and stakes before storing them, and check for bends or damage after each use.
6. Repair Kit
A tent repair kit is a great addition to any camping trip. It should include items like a tent patch kit, extra guylines, buckles, and a pole splint. Being prepared for small repairs can save your camping trip and keep your tent in good shape.
Keep these tent care tips for the best tents for camping in the rain in mind. You'll have a dry and comfortable camping experience, but your tent will stand the test of time for many future excursions. Happy camping!