Planning an outdoor adventure—a getaway where you can immerse your senses in nature's bounty and still cling to that same cozy feeling of being home? For this purpose, a camping tent that looks like a house is your perfect companion. But what makes these tents unique? Let's discover this in detail.
Immerse Yourself in Nature with a Camping Tent that Looks Like a House
Traditionally, camping has always meant slumbering under the stars, cocooned inside a modest, simplistic tent. But as camping evolved into becoming more of a lifestyle choice instead of a mere activity, our demands from our humble tents changed too. We wanted more comfort, more room, and a homely appeal. Answering all our demands are these house-like camping tents. They're designed to balance the fun of camping with the comfort of home, thereby elevating the outdoor experience like never before.
Key Benefits of a House-like Camping Tent
Comfort and Space: These house-like tents are reputed for their spacious interiors, offering ample space for everyone to stretch and relax. Some models come equipped with multiple rooms for added privacy.
Familiarity: These tents boast a homey vibe, giving you a sense of familiarity even when you're far away from home.
Advanced Weather Resistance: Many house-like camping tents offer excellent resistance against harsh weather conditions, ensuring that you remain dry and comfortable inside.
Ease of Assembly: Despite their complex structure and large size, many of these tents are remarkably easy to assemble and disassemble.
Break the Monotony: Features that Set Them Apart
Moving beyond single-room tents, house-like tents often boast multiple rooms or compartments. They provide the occupants with much-needed privacy—perfect for multi-family camping trips or groups of friends seeking personal space. Many also feature porches or awnings, adding a homely touch while providing shade and space for relaxing. The larger windows offer fantastic views and facilitate excellent ventilation.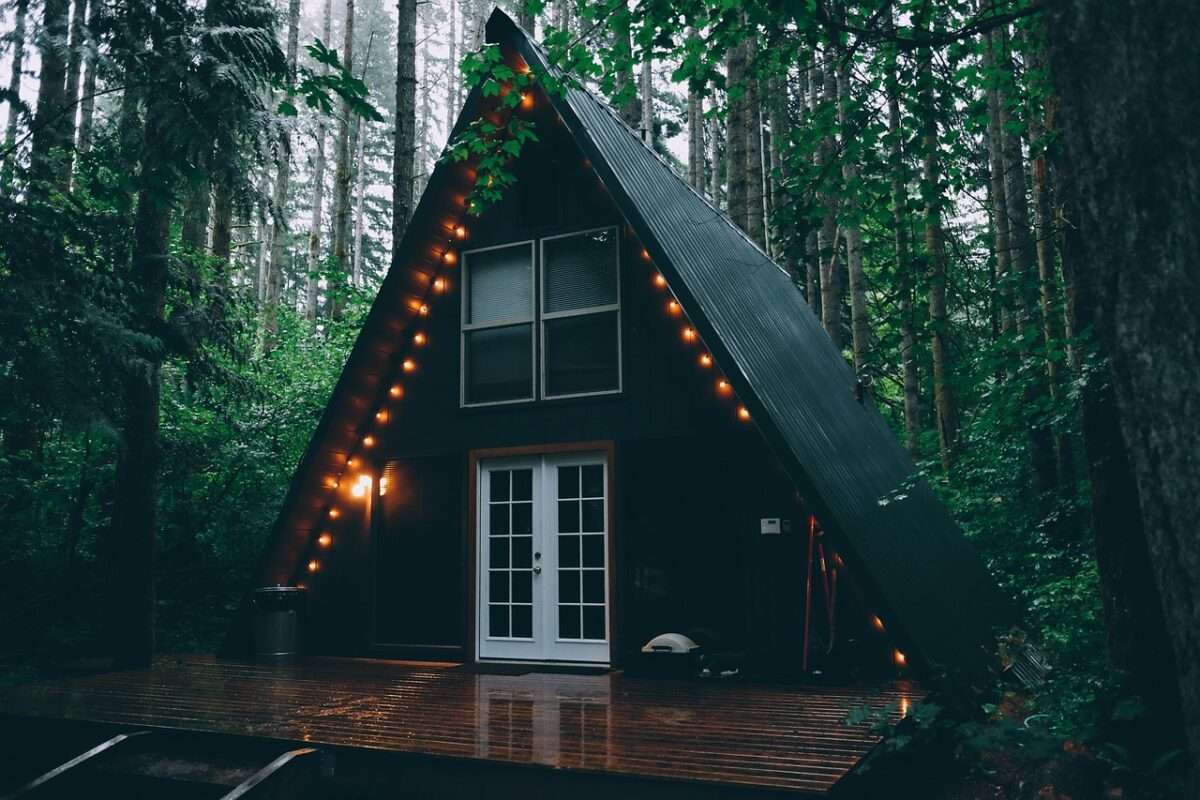 Enjoy the Great Outdoors in Comfort
These tents don't just mimic the structure of a house; they're also laden with creature comforts that we associate with home.
Built-in E-ports: Long gone are the days when camping used to mean disconnecting from the world. Now, many of these tents come equipped with E-ports allowing you to stay connected with the outside world whenever you need to.
Storage options: These tents offer plenty of mesh pockets and gear lofts to keep your essential items and camping gear organized and easy to access.
Room Dividers: For those who require additional privacy, room dividers can be used to create separate spaces within the tent.
Highlighting the Superstars: Top Picks
Ozark Trail 3-Room XL Family Cabin Tent: Space meets functionality here. This tent, with its three separate rooms and a central living area, is perfect for large families or groups.
Coleman WeatherMaster 10-Person Outdoor Tent: It stands out with its WeatherTec system, a patented technology that keeps you dry and cozy irrespective of the weather outside. Ideal for a group of backpackers.
Browning Camping Big Horn Tent: This heavyweight tent is known for its robust design and durability. Its room dividers make it an ideal choice for families looking for more privacy.
Sifting through Choices: How to Choose Your Perfect Camping Tent
Size and Space Needs: Consider the size based on the number of co-campers. Choose a tent that offers ample room for everyone.
Weather Resistance: Select a tent with well-tested weather resistance capabilities.
Material Quality and Durability: Look for high-quality, rip-resistant materials to ensure your tent withstands rough weather and usage.
Quality of Poles: Strong poles made of fiberglass or aluminum are necessary to keep your tent sturdy.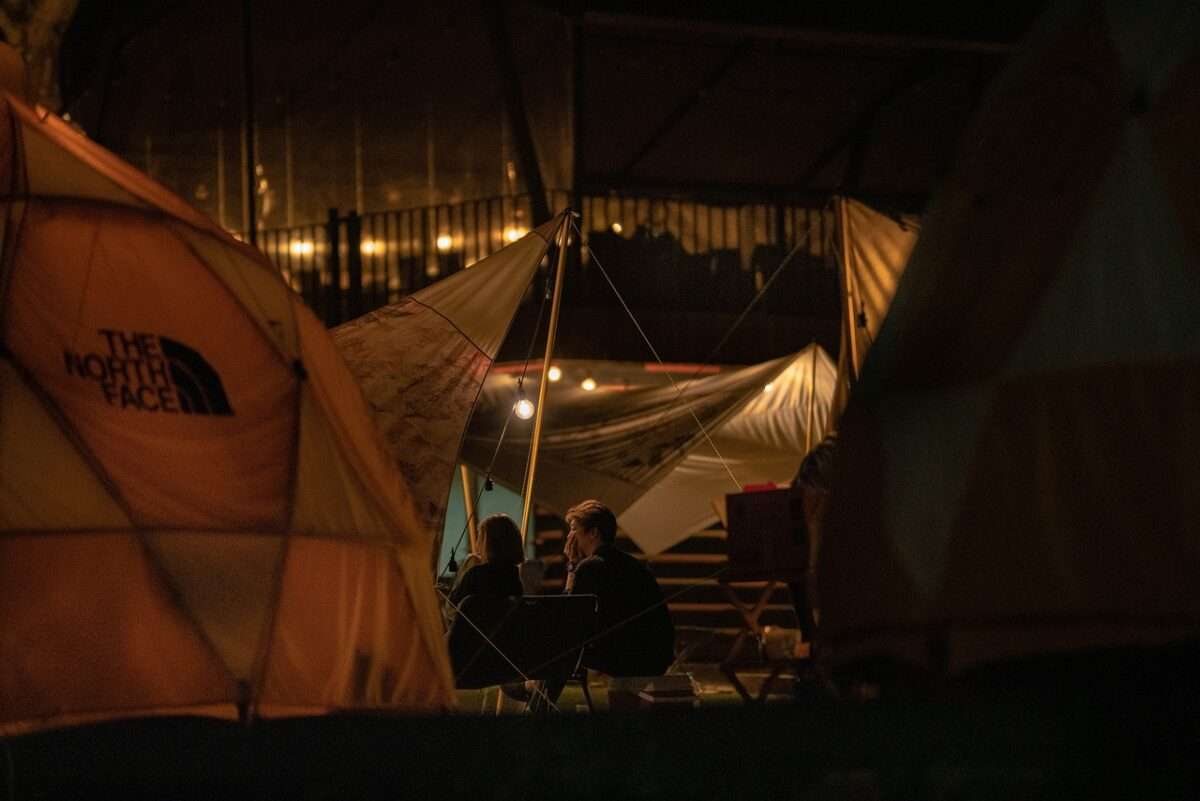 Multi-storied Tents – A Reality in Camping
Many latest house-like tents are designed in the form of multi-storied structures. You might think it's a concept of luxury camping, but it's no joke! These tents come with mezzanine levels or lofts, providing even more space and separate zones within the tent, just like your home.
Built-in Lighting System
If you thought camping meant stumbling in the dark with a flashlight, think again. House-like camping tents of today come equipped with innovative built-in lighting systems. You can switch on and dim property-styled lights just at the press of a button!
In-built Air Conditioning/Heating Units
Dreaming about soothing, air-conditioned comfort in the midst of summer camping trips? Or do you fantasize about a warm, cozy tent in a chilly night? Believe it or not, modern camping tent designs come with options for air conditioning and heating units. Sounds like home, doesn't it?
Tent with a Patio
Style and elegance meet the rustic charm of outdoor camping as one can get a tent complete with a patio. An excellent spot to stack your camping chairs and table, this serves as a dedicated place to sip your coffee while watching the sunrise or enjoy your grilled dinner under the stars.
Solar-Power Features and Wi-Fi Signal Boosters
Many house-like camping tents come equipped with innovative, technology-friendly features like solar power ports and Wi-Fi signal boosters. Now, you can enjoy the allure of dark skies filled with stars and yet never be far away from your comfort zone of technology.
Bathroom and Shower Spaces
Fancy a private shower in the wild outdoors? Some high-end house-like camping tents come with provisions to attach portable toilets and shower spaces! Yes, you heard it right; the luxury of a private bathroom is no longer a luxury reserved for hotels.
A camping tent that looks like a house is an exceptional asset for an outdoor enthusiast. It combines the freedom of being in the great outdoors with the comfort and familiarity of a home. With a plethora of options, take your time to decide based on your needs and enjoy a camping experience like none other.