Are you ready to embark on an incredible camping adventure? Leave the hustle and bustle of everyday life behind and immerse yourself in the beauty of nature. Camping is the perfect opportunity to unwind, breathe in the fresh air, and spend quality time with loved ones. However, finding the ideal camping spot can sometimes be tricky, as it plays a crucial role in determining the overall enjoyment of your camping experience. That's why we're here to help! We've put together a list of valuable tips that will make your tent camping experience an absolute blast. Get ready for an unforgettable journey filled with relaxation, exploration, and the joys of being in the great outdoors. Let's delve into it and transform your camping trip into an extraordinary experience! Here are some tips on how to make tent camping more enjoyable:
I. Choosing the Right Tent
When it comes to camping, selecting the right tent is crucial for a comfortable and enjoyable experience. Here are a few considerations to keep in mind:
Size and Capacity: Before purchasing a tent, determine how many people will be using it. Consider the tent's capacity, ensuring it provides enough space for everyone to sleep comfortably. Additionally, think about the gear and equipment you'll need to store inside the tent.
Weather Resistance: The weather can be unpredictable, so it's essential to choose a tent that can withstand various conditions. Look for tents made from durable materials with waterproof and wind-resistant features. Reinforced seams and a sturdy frame are also important for withstanding challenging weather conditions.
Easy Setup: Choose a tent that offers easy and quick setup. AI-powered camping apps can provide step-by-step instructions with animated visuals, making the setup process a breeze. These apps can guide you through every step, from assembling the frame to attaching the rainfly.
Ventilation and Insulation: Proper ventilation is essential to prevent condensation and maintain a comfortable interior temperature. Look for tents with mesh windows and vents that allow air circulation. If you plan to camp in colder climates, consider a tent with good insulation to keep you warm at night.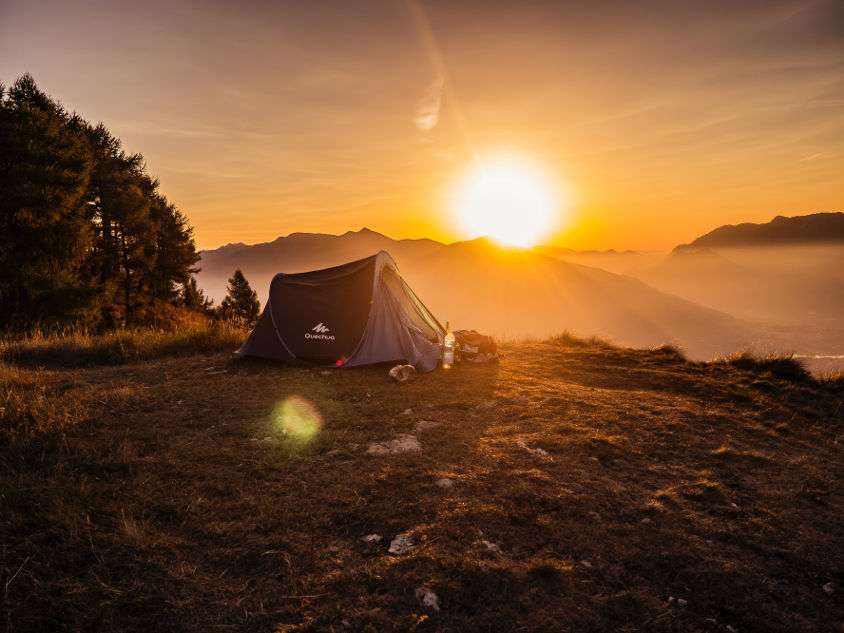 II. Plan for the Weather
Planning for the weather is vital for a successful camping trip. Follow these tips for a smooth experience:
Check the Forecast:   Before heading out, always stay updated with the weather forecast for your camping location. This will provide valuable insights into the expected weather conditions, allowing you to make appropriate preparations.
Dress Appropriately:  Pack clothing suitable for the anticipated weather. Opt for lightweight and breathable fabrics in hot temperatures to stay cool, and layer up with warm clothing in colder climates. Don't forget to bring waterproof gear in case of rain.
Choose a Suitable Shelter:  Select a tent designed to withstand the specific weather conditions you might encounter. Look for tents made from durable materials that offer waterproof capabilities and proper ventilation. This will ensure you remain dry and comfortable, regardless of rain or humidity.
Consider Wind Protection:  If strong winds are anticipated, scout for a campsite that provides natural wind barriers, such as trees or large rocks. Additionally, make sure to securely stake your tent and utilize guy lines to enhance stability.
Prepare for Temperature Changes:  Be mindful of temperature fluctuations, especially between day and night. Pack extra layers, opt for sleeping bags suitable for the expected temperatures, and consider using insulated sleeping pads to stay warm during chilly nights.
Stay Hydrated:  Dehydration can pose a risk, particularly in hot weather and during physical activities. Carry an ample supply of water and make it a habit to drink regularly to stay hydrated. If necessary, consider carrying a water filtration system to access clean water from natural sources.
Adapt Activities:  If the weather doesn't align with your initial plans, be flexible and adapt accordingly. Have backup activities ready, such as indoor games, reading materials, or exploring nearby indoor attractions.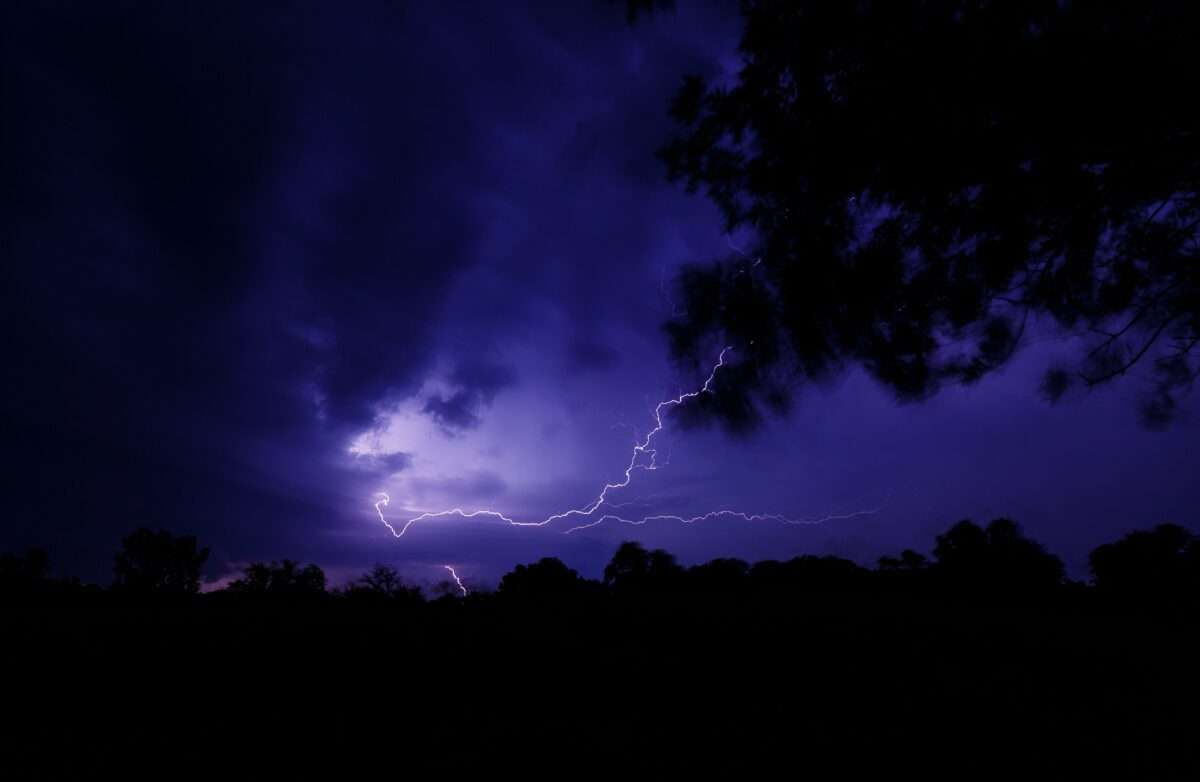 III. Choosing the Location
Selecting the ideal location is pivotal in ensuring a delightful tent camping experience. Allow us to present a compilation of highly recommended destinations that boast awe-inspiring landscapes and a multitude of recreational possibilities:
Yosemite National Park, California, USA: Famous for its granite cliffs, waterfalls, and sequoia groves, Yosemite National Park is a must-visit destination. It offers scenic campgrounds amidst stunning vistas and fantastic hiking trails.
Banff National Park, Alberta, Canada: Nestled in the Canadian Rockies, Banff National Park mesmerizes with glacial lakes, snow-capped peaks, and abundant wildlife. Tunnel Mountain and Two Jack Lakeside campgrounds provide easy access to hiking and hot springs.
Brecon Beacons National Park, Wales, UK: Experience the serenity of rolling hills, valleys, and ancient ruins in Brecon Beacons National Park. Campsites allow you to explore charming villages, conquer peaks, and stargaze under dark skies.
Kruger National Park, South Africa: For wildlife enthusiasts, Kruger National Park offers a thrilling camping adventure. Discover diverse ecosystems and encounter the famous Big Five on game drives and guided walks.
Great Smoky Mountains National Park, Tennessee/North Carolina, USA: Immerse yourself in misty peaks, lush forests, and vibrant fall foliage in the Great Smoky Mountains National Park. Campgrounds provide access to scenic drives and picturesque waterfalls.
Remember to research availability, permits, and regulations before heading to any location. Consider the time of year, weather conditions, and personal preferences to maximize your experience on how to make tent camping more enjoyable.
IV. The Right Camping Kitchen Essentials
Packing the right kitchen essentials is vital for a successful camping culinary experience. Here's a concise guide to help you make the best choices:
Portable Stove or Grill: Select a reliable stove or grill that suits your needs, considering size, fuel type, and ease of use.
Fuel or Charcoal: Ensure you have enough fuel or charcoal, and consider bringing extra for longer trips.
Utensils: Pack essential utensils like a spatula, tongs, and a sharp knife.
Pots and Pans: Include a versatile pot and frying pan that are lightweight and durable.
Plates, Bowls, Cups, and Cutlery: Opt for reusable, easy-to-clean items made of stainless steel or BPA-free plastic.
Cooler or Insulated Bag: Keep perishable food fresh with a reliable cooler or insulated bag and consider using ice packs.
Food Storage: Use airtight containers or resealable bags to organize and protect food
Cleaning Supplies: Bring dish soap, a scrub brush or sponge, and dish towels for cleaning.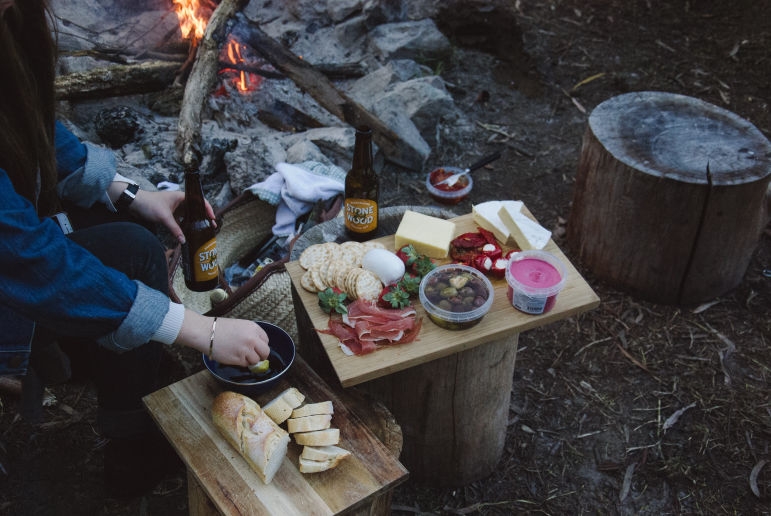 V. Prepare and Plan Your Meals
For a delightful camping culinary experience, consider the following tips:
Menu Planning: Create a daily menu considering breakfast, lunch, dinner, and snacks. Choose simple recipes with minimal ingredients and preparation.
Ingredient Prep: Prep ingredients in advance by washing, chopping, and marinating. Store them in sealed bags or containers.
Non-Perishable Foods: Pack non-perishable items like canned goods, dried fruits, nuts, and granola bars. Don't forget essential staples like oil, salt, and pepper.
One-Pot Meals: Opt for dishes that can be cooked in a single pot or skillet, such as stews, chili, pasta, or stir-fries.
Cooking Equipment: Assess available cooking equipment and plan meals accordingly. Use foil packets or a Dutch oven for campfire cooking.
Campfire Cooking: If allowed, embrace the campfire experience by grilling or making foil-packet meals.
Food Safety: Keep perishables chilled in a cooler. Separate raw meats from other foods and cook them thoroughly. Practice proper hygiene.
Get ready for an extraordinary camping adventure! With the right tent, weather planning, location choice, packed essentials, and prepared meals, you're all set to embrace the wild. Prioritize safety, cherish nature's wonders, and let your imagination soar. Camping is your escape, a chance to reconnect with the beauty of the natural world. So, go ahead and embrace the wild with our guide on how to make tent camping more enjoyable and create unforgettable memories.
Happy camping, adventurer!