Beach tents are an essential outdoor accessory that combines function and fashion. The right beach tent not only serves as a protective shield against the scorching sun, wind, or unexpected drizzles but also creates a personal outdoor space where you can unwind, nap, or store your beach essentials. The market is brimming with diverse tents, from minimalist designs to family-sized shelters, but some simply stand out from the crowd.
This article aims to deliver an in-depth review of the Pacific Breeze Easy Setup Beach Tent Deluxe XL, providing insight into its features, setup process, durability, and customer feedback, among other aspects.
Product Overview
The Pacific Breeze Easy Setup Beach Tent Deluxe XL is a standout piece in their product line due to its versatile nature and impressive features. Weighing just over 6 pounds, this lightweight, compact option is the perfect pick for any outdoor activity. With a size of 95 L x 52 H x 51 D, it provides a spacious interior that comfortably fits 3-4 people, making it a winner in the size category.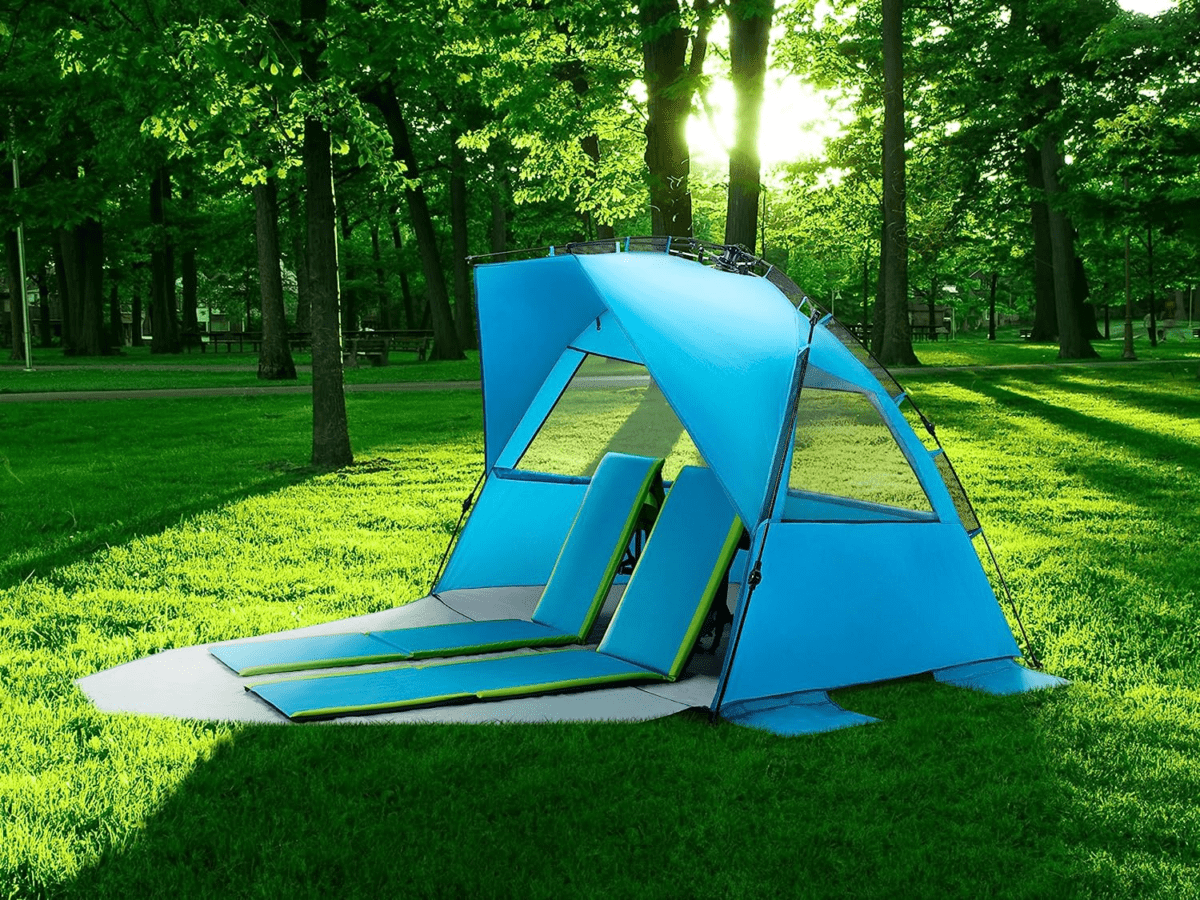 What sets this beach tent apart… is its unique hub system that provides a fast and easy setup, its breathable polyester build, its water repellent nature, and its UPF 50+ sun protection. Not to mention the 3 X-large windows for ventilation, offering a cool and comfortable shade even on the hottest of days.
Aside from offering ample space, the tent also features internal pockets for safekeeping of personal items and hooks for hanging, making it not only a shelter but a convenient companion on the beach.
Features
Like a lighthouse standing tall amidst undulating waves, here's why the Pacific Breeze Easy Setup Beach Tent Deluxe XL manages to stay aloft in a sea of competition:
Spacious Interior: Despite its convenient size, the Pacific Breeze tent doesn't compromise on interior space. It comfortably accommodates 3-4 people, perfect for both intimate getaways and family outings.
Easy Setup: The name says it all, doesn't it? Pacific Breeze emphasizes ease, and their tent setup process is proof of that. Equipped with a unique hub system, setting up this tent is a breeze, literally!
Quality Construction: Crafted with high-quality polyester and a fiberglass frame, this tent is built to withstand repeated use and the rigors of outdoor weather.
Distinct Features: The tent distinguishes itself further with thoughtful features like internal storage pockets, external sand pockets for stability, three extra-large windows for ventilation, and an extendable floor that can be zipped up for privacy. All these combined make for a tent that's both practical and comfortable.
Weather Resistance Prowess
No beach tent review can be complete without a mention of its resilience against variable weather conditions:
Sun Protection: The Pacific Breeze beach tent comes armed with UPF 50+ sun protection, ensuring harmful ultraviolet rays don't interrupt your beach enjoyment.
Wind and Rain: The tent's sturdy construction and water-resistant materials ensure you stay dry and protected, even when the weather decides to be unpredictable.
Portability & Storage
Performance and convenience should go hand-in-hand and with the Pacific Breeze tent, they do:
Lightweight Design: Weighing in just over 6 pounds, this tent is designed to be the perfect portable companion performance.
Compact Fold-up size: The tentative folds down to a packable 38 L x 6 W x 6 H size, allowing easy transportation and storage.
Carry Case Included: The tent also comes with a carrying case, making storage and transportation even easier.
Pros and Cons
Pros
The easy setup process with a unique hub system
Spacious interior accommodating 3-4 people
High-quality polyester and fiberglass construction
Additional features such as storage pockets, sand pockets, extra-large windows, and extendable floor
Weather-resistant with UPF 50+ sun protection and water-resistant fabric
Lightweight and portable design with included carrying case
Cons
Priced higher compared to other beach tents in the market
Limited color options, available only in blue
May require additional anchoring in high winds
Customer Reviews and Feedback
Customer reviews for the Pacific Breeze Easy Setup Beach Tent Deluxe XL are generally positive, with many praising its easy setup, spacious interior, and weather resistance features.  Due to its exceptional features and customer satisfaction, the Pacific Breeze Easy Setup Beach Tent Deluxe XL has received numerous accolades in the outdoor gear industry.
Final Words
To wrap things up, the Pacific Breeze Easy Setup Beach Tent Deluxe XL continues to be a dominant player in the outdoor gear market in 2023, thanks to its unique blend of easy setup, durability, comfort, portability, and customer appreciation. Whether for a beach getaway or a day picnic, this tent is fantastic for all your outdoor needs.