In 2023, the camping landscape comes alive with the introduction of new camping tents, each defined by revolutionary features designed for outdoor aficionados. From economic to exclusive options and high-tech weather-proof innovations to feather-light marvels apt for backpacking, these top 7 tents stand as an epitome of the future of camping.
Coleman Sundome Camping Tent
A stalwart in camping gear, the Coleman Sundome Camping Tent offers exceptional value for recreational campers. Its 6-person model offers sprawling space fit for a small group. Rated weatherproof against 35+ mph winds, the dome-style tent incorporates a robust frame and ground vents. Thoughtfully designed, this tent boasts an E-port for easy access to electrical power, internal storage pockets to keep gear organized, and a patented pin-and-ring system for secure and easy setup.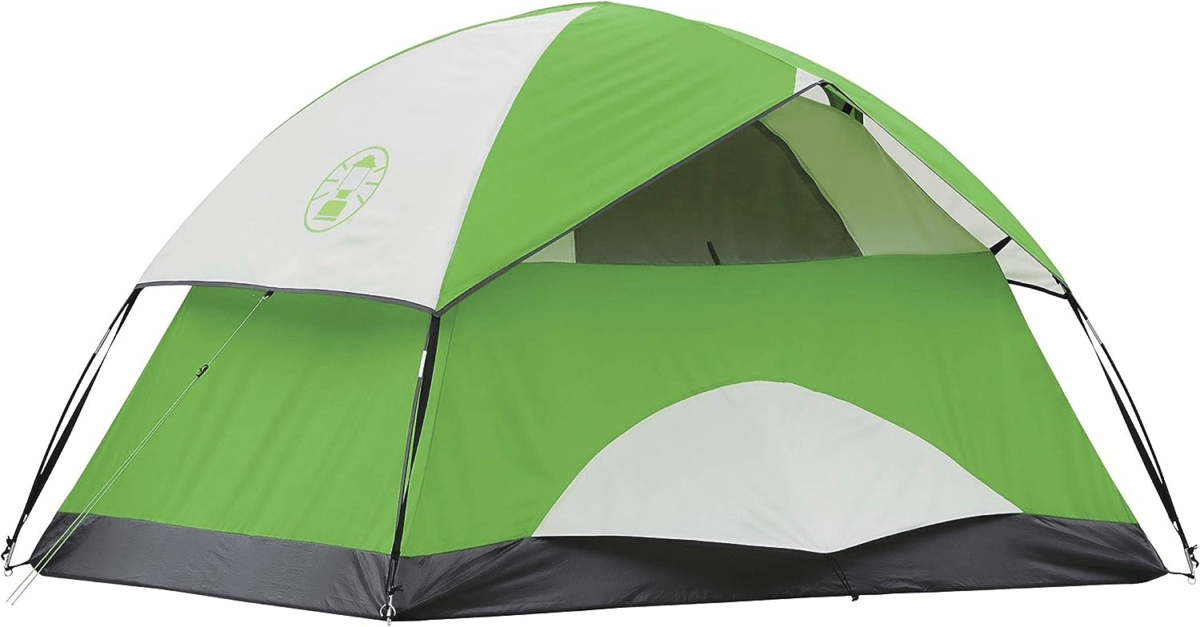 Features
WeatherTec System: Ensures maximum waterproofing with welded corners and inverted seams, providing a dry environment irrespective of the weather.
Spacious Interior: Large enough to fit two queen-sized airbeds, creating ample sleeping space.
E-Port: Offers an accessible electrical power supply for lights, phone chargers, or other electronics within the tent.
Storage Pockets: Mesh pockets sown into the tent walls provide space to keep your camping gear organized.
10-Minute Set Up: The tent sets up quickly with continuous pole sleeves and instructions sewn into the carry bag, allowing more time to enjoy your outdoor adventures.
Dimensions: This tent measures 10 x 10 feet with a 6-foot center height.
Ventilation: Large windows and a ground vent create improved airflow.
Rainfly: Optional rainfly for extra weather protection.
Durability: The frames are constructed with strong fiberglass to withstand moderate wind gusts and the wear and tear of camping.
Pros
Excellent weather resilience
Spacious Interior
Easy Assembly
Cons
The larger size isn't great for minimalistic backpacking jaunts
Customer Reviews
Customers often extol the exceptional weather endurance and the roomy interior that easily accommodates family or group camping.
Marmot Crane Creek 2P/3P Backpacking and Camping Tents & Footprints
Designed for those who prefer to travel light, the Marmot Crane Creek Camping Tent is an apex pick. Featherlight yet sturdy, it is prepared for all your backpacking adventures. The tent's 7000 series aluminum poles and seam-taped full coverage fly offer a reliable camp shelter built to resist wind and water.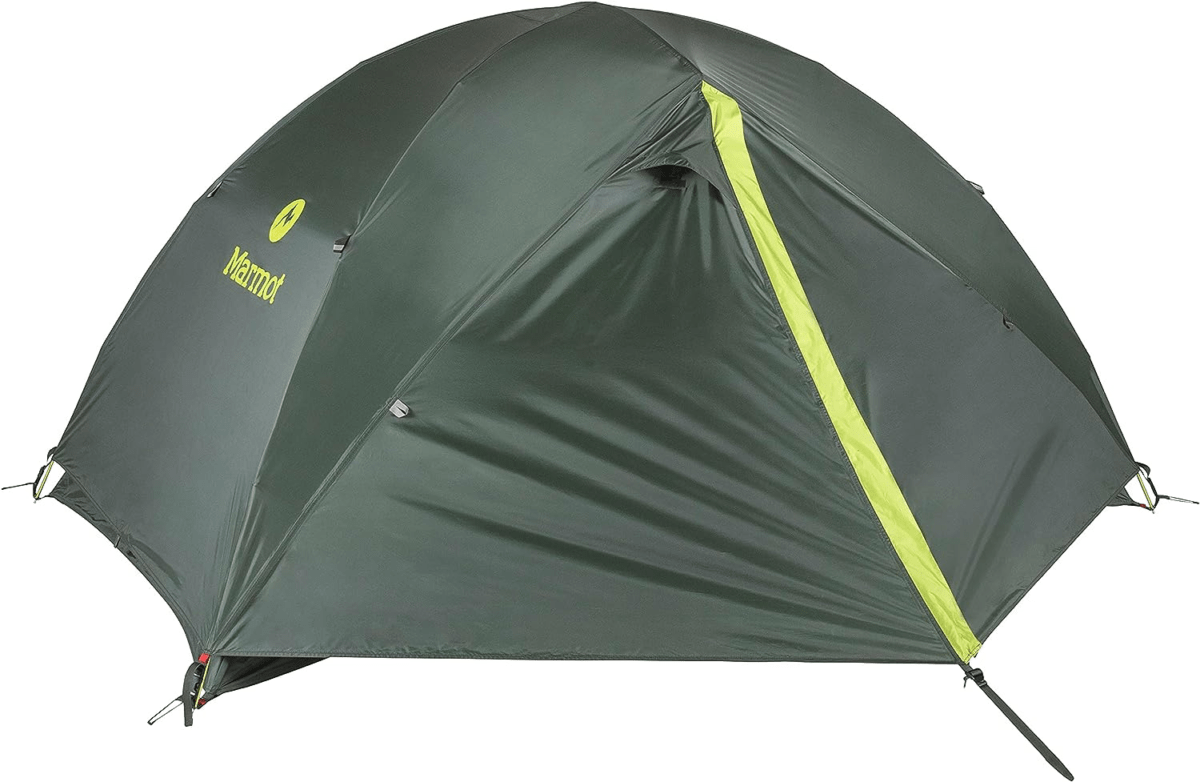 Features
Ultralightweight Design: Makes it easy to carry for long treks without adding unnecessary weight to your load.
Durable Materials: Features 7000 series aluminum poles, ensuring stability in the face of harsh conditions.
Seam-Taped Full Coverage Fly: For optimal weather protection during rains with vents to prevent condensation.
Compact Footprint: Perfect for isolated campgrounds where space is premium.
Two D-Shaped Doors: Two doors with vestibules allow easy access and convenient gear storage.
Ultralightweight Design: The compact build totaling around 5 lbs diminishes load for long treks.
Two Person Sleeping Capacity: The tent is designed to comfortably sleep two with dual doors for easy access.
Weather Resistance: The tent frame is sturdy and secure, ideal for windy or rainy conditions.
Interior Pockets: Comes with internal pockets to store your gear, keeping the tent tidy.
Pros
Light Weight
Robust Materials
Good for Backpacking
Cons
Compact size might feel cramped for extended camping or larger groups
Customer Reviews
Backpackers commonly praise the ultra-portable design and sturdiness, thumbs-up for long treks and minimalistic camping. The compact size, however, does draw few criticisms from users looking for extended stay tents.
Kelty Wireless Freestanding Car Camping Tent
Offering a user-friendly design, the Kelty Wireless Freestanding tent offers a quick setup with poles already attached to the tent, reducing the number of pieces to manage. This tent, featuring a spacious interior and the Quick-Corner Technology, is perfect for car campers or weekend explorers.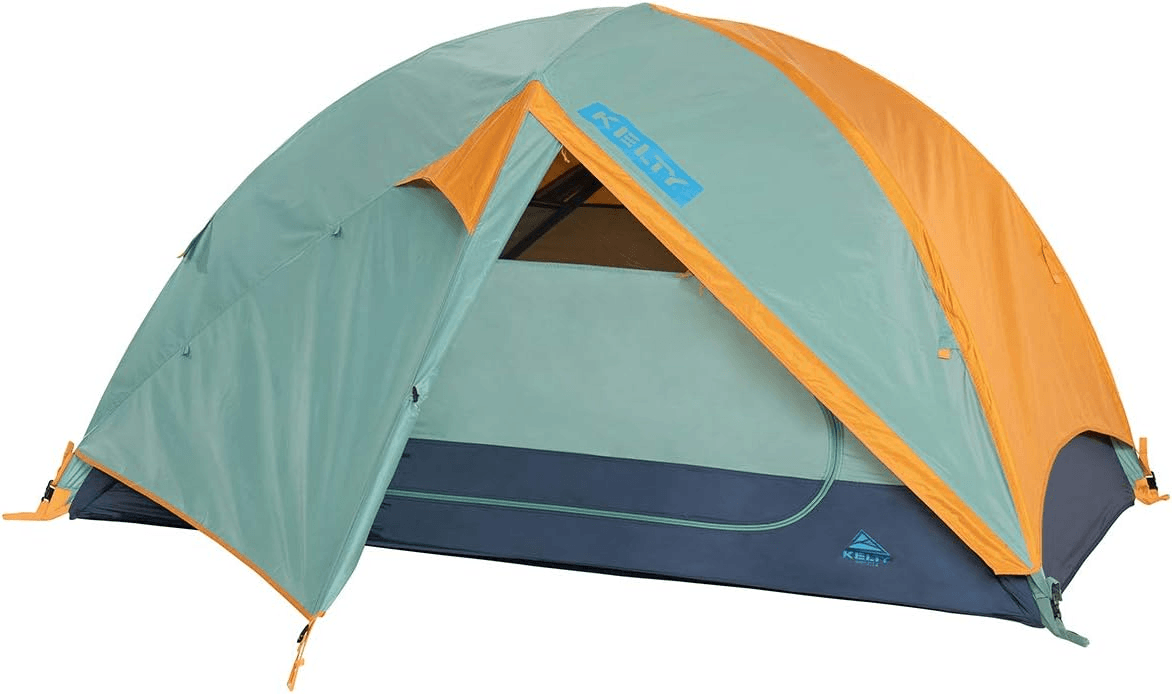 Features
Quick-Corner Technology: Enables a fast, easy setup within minutes.
Spacious Interiors: The tent capitalizes on vertical wall design to provide more living space.
Vented Fly and Vestibule: Keeps internal temperature moderate and offers additional storage space.
Internal Storage Pockets: Keep items organized and easily accessible.
Freestanding Design: This tent can stand independently and quickly moved after setup.
Pole Design: The tent includes a sturdy aluminum pole design for durability.
Multiple Storage Pockets: The tent houses several mesh pockets and gear lofts.
Freestanding Design: The unique design means you can pick up and move your fully set up tent to a new location.
Tent Size: Provides ample sleeping space for 4 people, perfect for a small family or group of friends.
Pros
Quick Setup
Spacious Interior
Robust Ventilation
Cons
May not fare well under harsh weather conditions
Customer Reviews
Campers appreciate its easy assembly and sizeable living space, while some note concerns about its resistance to extreme weather conditions.
MSR Freelite 2-Person Ultralight Backpacking Tent
Hitting the sweet spot between comfort and lightness, the MSR Freelite Backpacking Tent is crafted for extended backpacking trips. This 2-person tent provides adequate room for sleeping without adding significant weight to your pack. Moreover, its highly ventilating micro-mesh canopy allows for stargazing on clear nights.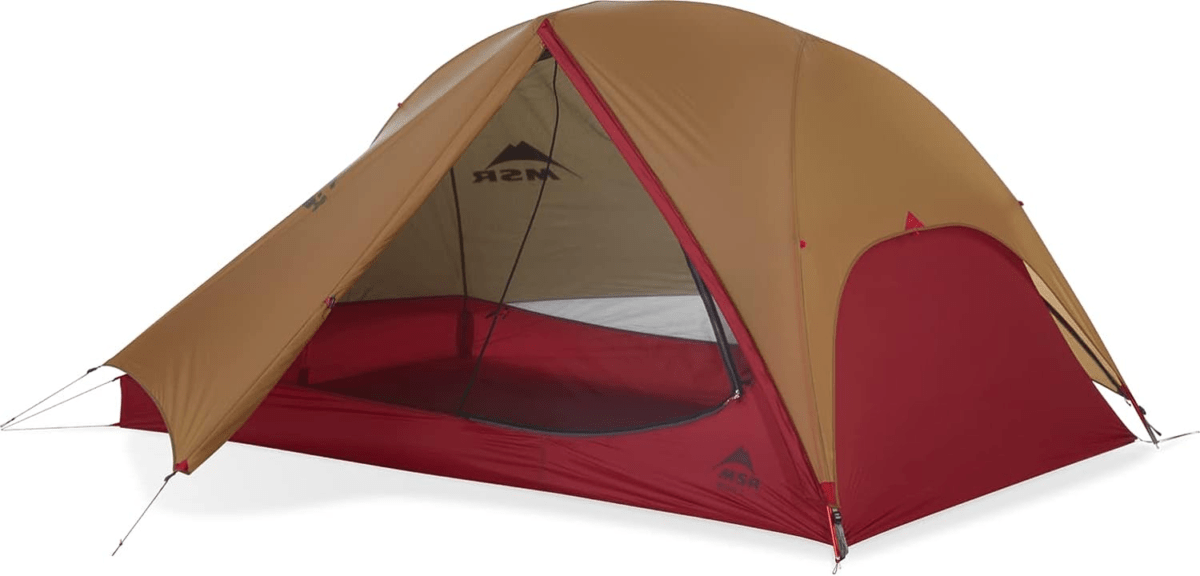 Features
Ultralight Design: Weighing only 2.6 lbs, it minimizes your load for long hikes.
Durable Materials: It is amde from high-tenacity nylon fabrics that ensure durability without adding weight.
Easy Setup: The unified hub-and-pole system allows for quick, easy setup and maximum space.
Ventilation: The micro-mesh canopy offers maximum ventilation and moisture control.
Two Access Doors: Facilitate easy movement in and out of the tent.
Dimensions: This tent has a floor area of 29 sq ft and an interior peak height of 36 inches.
Canopy and Floor Fabric: The canopy and floor are constructed from 15D nylon micromesh and 15D ripstop nylon, ensuring higher durability.
Double-Wall Construction: This design helps keep condensation at bay on chilly nights.
Color-Coded Set Up The color-coded clips and poles simplify the tent set-up process.
Pros
Exceptional lightweight design
Made from robust materials
Cons
Can feel a bit cramped for more than two campers
Customer Reviews
Users frequently celebrate its lightweight build and rugged fabric that can withstand the elements, giving it a favorable nod among backpacking enthusiasts.
Naturehike Mongar 2 Person Backpacking Tent
Packed with it is a portable, lightweight shell, the Naturehike Mongar 2 Person Backpacking Tent affords comfort without compromising adaptability. Its lightweight design, double-layer feature, and weather-resistant materials are great for those extended backpacking adventures.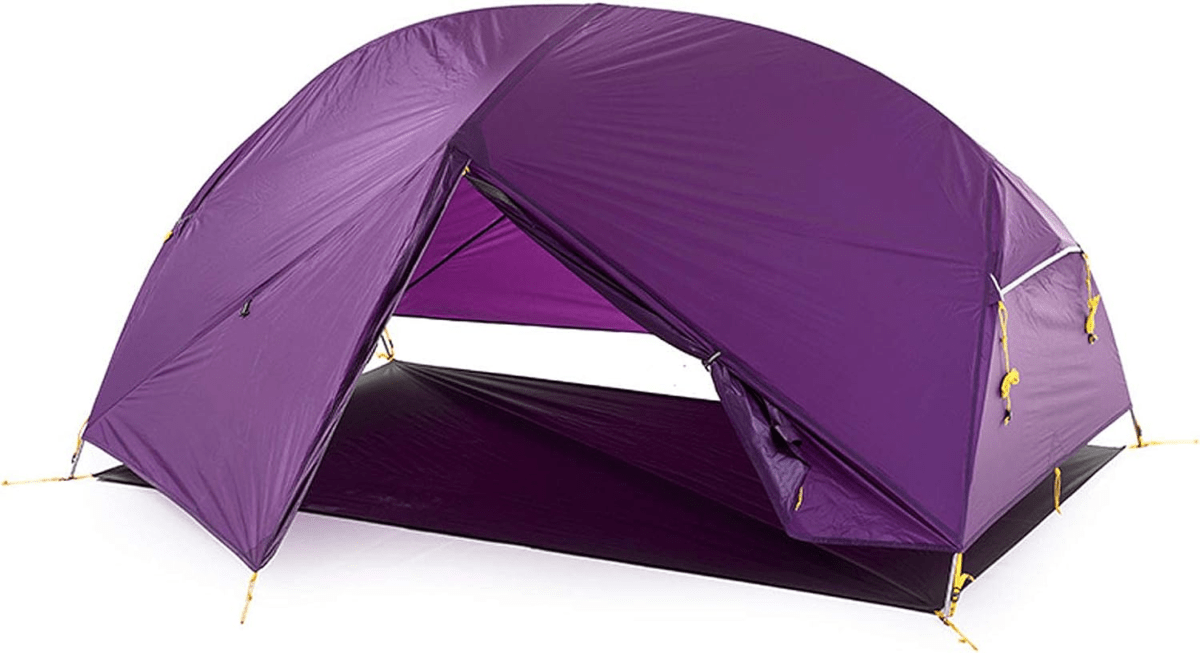 Features
Optimized Space Design: The inner tent is a 210T anti-tear polyester fabric, sizeable enough for two people.
Double-Layer Tent: The dual-layer tent efficiently combats weather swings, offering warmth in cold weather and a breathable tent for hotter days.
Ultralight Weight: Weighing just about 2.16 lbs, it's easy to carry without burdening your backpack.
Quick Set Up: The two poles with clip-pole attachment make for lighter weight and easy setup.
Wind and Rain Resistant: The tent's robust structure and rain-fly material offer strong resistance against wind and rain.
Dimensions: The tent measures 210 x 135 x 100 cm, providing ample room for two people.
Material: It comprises aluminum alloy poles and high-density mesh, ensuring breathability and durability.
Vestibule Area: Two vestibule spaces to store gear and shoes.
Freestanding Design: Can be moved without disassembling, providing flexibility to campsite adjustments.
Pros
Efficient space usage
Versatile
Lightweight
Cons
Not created for extreme winter camping
Customer Reviews
Adventurers commonly appreciate its combined lightness and weather resilience, cementing its place as a favorite among backpacking campers.
Klymit Cross Canyon Tent for Camping
Earning a reputation as a versatile camping tents, the Klymit Cross Canyon comes in different sizes suiting solo hikers, couples, and families. Its highlight is the embedded storage pockets and gear loft to keep essentials within reach.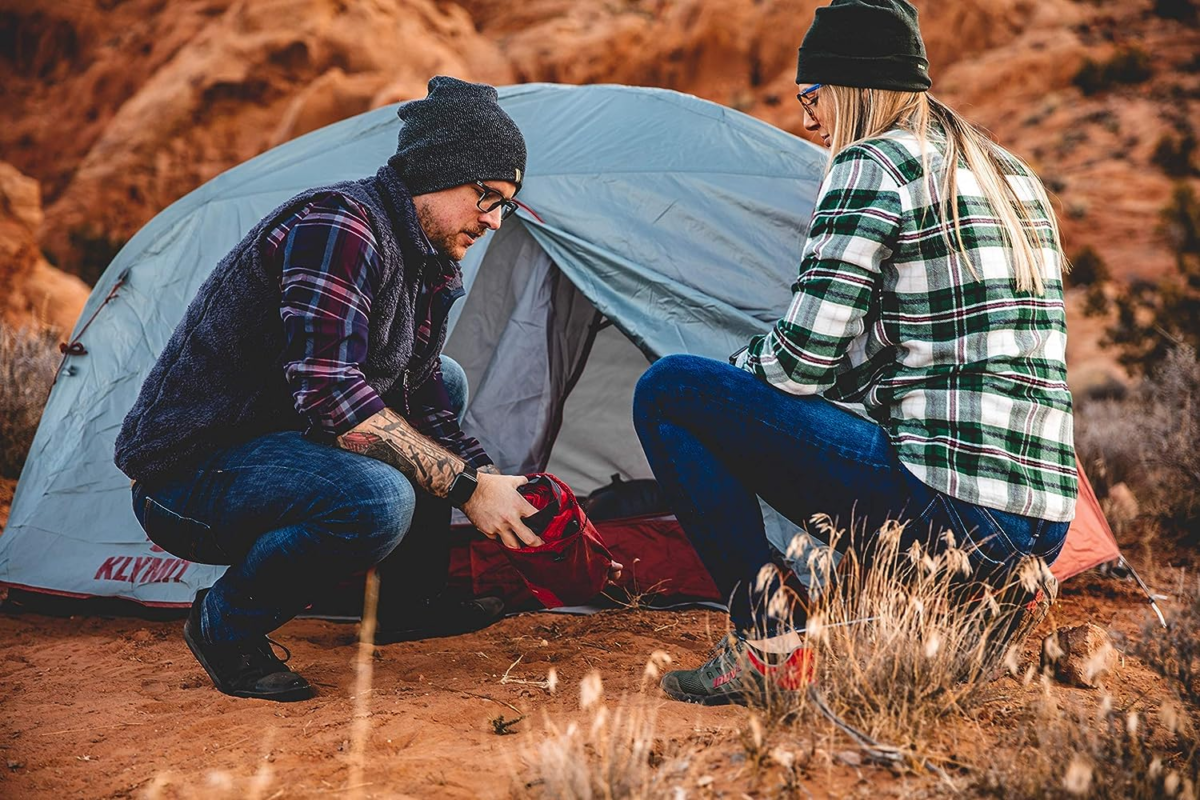 Features
Adjustable Ventilation: Achieved through the mesh canopy for stargazing and maximizing airflow.
Convertible Sun Shade: A true functional design that acts a front porch or shade canopy.
Spacious Interiors and Multiple Pockets: More room and storage options to keep camping necessities within reach.
Sturdy Frame Structure: The strong frame remains stable against strong winds.
Versatile Size Options: Tent options for 2, 3, or 4 people cater to every camper's different needs.
Three Seasons: It is a three-season tent designed for spring, summer, and autumn camping.
Multiple Doors: Two doors provide convenience and flexibility for entering/exiting the tent.
Floor Material: The tent floor uses a durable 68D Poly with a 3000mm waterproof rating.
Cross Ventilation: Apart from the mesh canopy, the tent incorporates additional vents to increase airflow.
Pros
Versatile design
Strong and wind-resistant
Suitable for solos or groups
Cons
Taller individuals may feel a tad cramped
Customer Reviews
Experienced campers appreciate its adjustability features and robustness against wind, adding adaptability to varying outdoor scenarios.
Pacific Pass 2/4/6 Person Family Dome Tent
In the Pacific Pass Family Dome Tent, you find an economical choice that doesn't compromise on necessary features. This tent features a cool design with two large mesh windows and a mesh roof, ensuring excellent ventilation.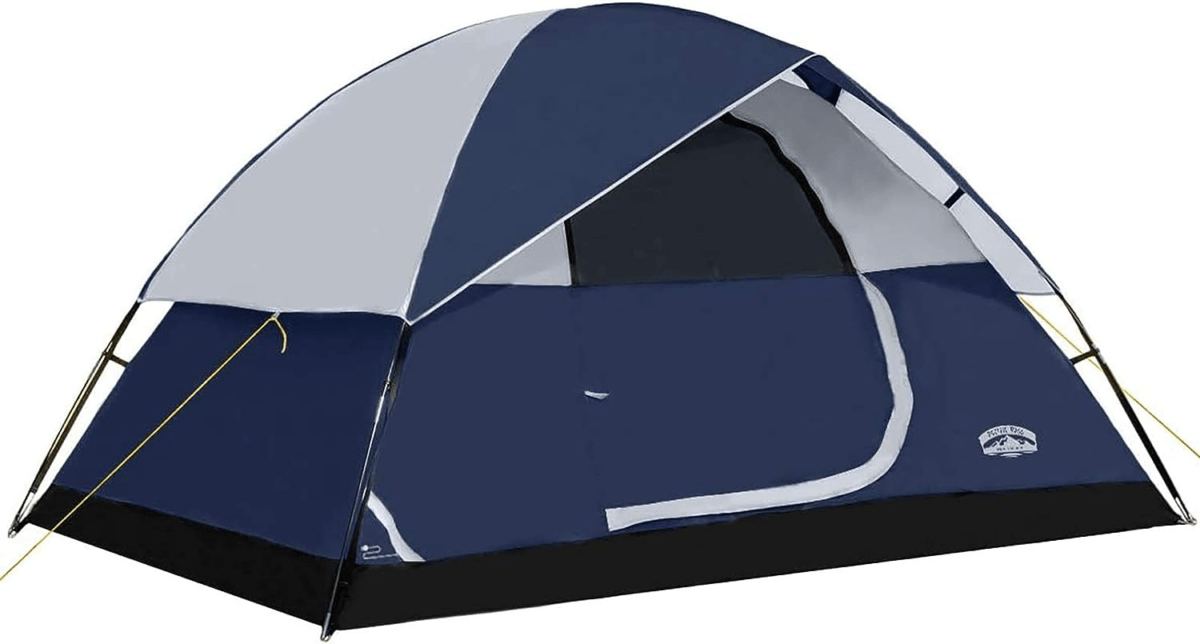 Features
Spacious Interiors: Enough room to comfortably host 2-6 people based on the tent option chosen.
Excellent Air Circulation: The large mesh roof and ground vent promise excellent airflow.
Weather-resistant Design: A strong frame and rainfly keep the tent steady and dry during tough weather conditions.
Easy Assembly: Simple setup design cuts down pitch time, providing more time for camping adventures.
Cost-effectiveness: Provides value for money with its host of features at an affordable price.
Material: Highly durable 190T polyester fabric with a waterproof rating of 1200mm.
Internal Pocket: To help you store your belongings and keep the tent structured and tidy.
Dimensions: The overall dimensions are 82.7 x 82.7 x 51.2 inches, providing abundant headroom and space for movement.
Pros
Economically priced
Spacious
Efficient ventilation
Cons
Less durability as compared with higher-end models
Customer Reviews
Campers commend its attractive price point and surprisingly roomy space, positioning it as a sound choice for budget-conscious adventurers and first-timers.
Final Verdict/Recommendation
If a budget-friendly buy is on your mind, opt for Pacific Pass Family Dome Tent. For a tent that will go distances with you, Marmot Crane Creek proves to be a sturdy choice. The luxurious space provided by the Coleman Sundome Camping Tent outshines many others. Prioritize your key requirements, and choose a tent that best fits your camping style and needs.
Frequently Asked Question
1. Which camping tent is easiest to set up?
The Kelty Wireless tent is designed for a quick setup, making it one of the easiest tents to assemble.
2. How crucial is ventilation in camping tents?
Proper ventilation is essential in a tent to manage condensation and ensure a comfortable, breathable environment inside.
3. Can these tents withstand strong winds and rain?
Most of the reviewed tents come with features designed to resist wind and rain. However, environmental extremes may challenge their sturdy design.
4. Are these tents suitable for all seasons?
While most tents can handle three seasons (spring, summer, fall), only a few are designed for all four seasons, including winter.
5. Which tent is the most lightweight for backpacking?
 The MSR Freelite 2-Person Tent is praised for its ultra-lightweight design, ideal for long-distance backpacking.
6. Can you fit a queen-size airbed in these tents?
Certain tents like the Coleman Sundome can comfortably accommodate two queen-sized airbeds.
7. What is the usual lifespan of these camping tents?
Durability depends on the quality of materials used, frequency of use, and care. With appropriate handling, good-quality camping tents can last several years.