In recent years, outdoor enthusiasts have been pushing the boundaries of traditional camping to create diverse, unique, and innovative adventures. A shining example of this trend is boat camping, a superb way to combine the thrill of boating with the serenity of camping in the great outdoors. If you're ready to embark on your expedition with a touch of nautical ingenuity, this comprehensive guide on boat camping tents will help you navigate the waters with ease.
Why You Need a Boat Tent For Camping
Investing in a boat camping tent offers numerous advantages for your water-bound expedition that go beyond the benefits of conventional tents. Here's why you need one for your next adventure:
Convenience
Boat camping tents are specially designed for watercraft, providing an on-the-go shelter that helps you avoid looking for suitable campsites on land. Anchoring your tent on the boat means it's always at hand and easy to deploy wherever you end up.
Safety and Protection
Boat tents provide an additional layer of safety by keeping you off the land and reducing the risk of encountering wildlife while sleeping. Moreover, they also offer excellent protection against harsh weather conditions such as rain, wind, and damp environments.
Seclusion
Boat camping allows you to escape the hustle and bustle of crowded campsites or beaches and enjoy a peaceful retreat surrounded by water. This solitude provides a unique opportunity for fishing, bird watching, and wildlife observation.
Choosing the Right Boat Camping Tent
Before venturing out to buy a boat camping tent, consider the following crucial factors to ensure you find the perfect match for your watercraft and camping style:
Size
Size is a critical factor to think about. Take into account the dimensions of your boat and the space you need for sleeping, storage, and other equipment. Make sure the tent fits comfortably on your vessel without compromising stability or safety.
Weight
Weight plays a significant role in the boat's load and overall stability. Opt for lightweight and compact options that allow for easy transport and won't overload your watercraft, especially if you're in a smaller vessel like a kayak or canoe.
Material
The tent's material must be durable, waterproof, and resistant to UV rays. Look for high-quality polyester or nylon fabrics with waterproof coatings that can shield you from the elements. Additionally, consider tents with strong poles made of aluminum or fiberglass as these materials are lightweight yet sturdy.
Setup Ease
Quick and effortless installation is key when it comes to boat camping tents. A complicated setup can be overwhelming after a long day on the water, not to mention challenging in poor weather conditions or fading light. Look for simple solutions with clear instructions to help you pitch your tent on the boat as seamlessly as possible.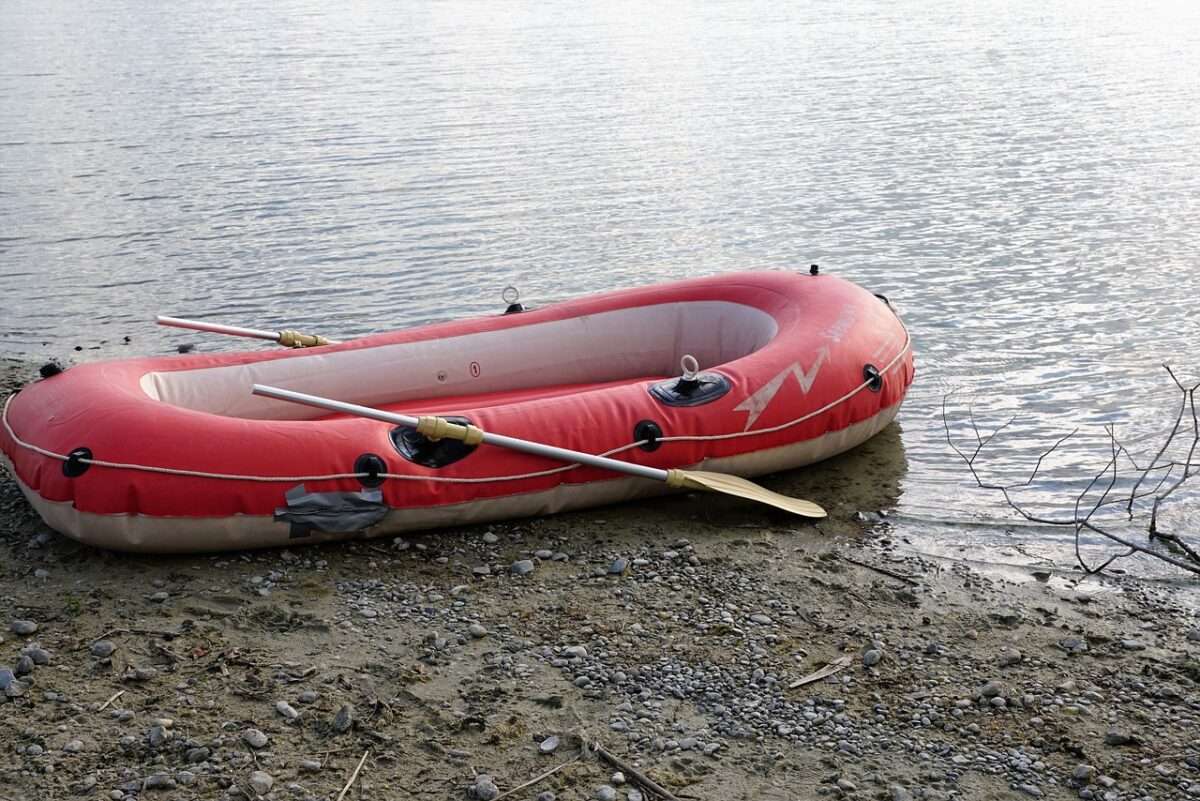 Top Boat Camping Tents
Selecting the right boat camping tent can be overwhelming, given the myriad of options available. To help you narrow down your choices, below are some top contenders in the market:
The Boat Camping Enthusiast's Paradise (Tyvek Model) – This spacious tent has multiple layers of insulation, keeping your interior warm and cozy during those chilly nights. The Tyvek material ensures durability and is waterproof as well.
The Lightweight Minimalist (The Sil-Nylon) – The Sil-Nylon tent is perfect for canoe campers who want to travel light. Weighing only 3 pounds, this tent is compact, easy to set up, and offers ample protection for a paddle-powered journey.
The Multipurpose Marvel (The DIYer's Dream) – For those confident do-it-yourselfers, why not create a custom boat camping tent to fit your specific needs and watercraft? By tailoring the tent size, material, and features to your vessel, campers gain a truly personalized shelter for their boating escapades.
Setting Up Your Boat Camping Tent
Before you head out for your adventure, familiarize yourself with your tent's setup process. Here are some general steps to follow:
Identify a suitable location on your boat to pitch the tent.
Clear the area of any potential hazards or obstructions that could damage your tent or interfere with the setup.
Unfold and lay your tent out on the boat, lining up the poles as needed.
Attach the poles to their respective points on the tent and secure them.
Stabilize your boat with anchors, ensuring the vessel remains stationary while you set up your lodging.
Affix the tent to your boat using the provided attachments and secure straps or ropes to keep it in place.
Dos and Don'ts of Boat Camping
To ensure a safe and enjoyable boat camping experience, keep these tips in mind:
Always have a reliable communication device and establish a check-in routine with friends or family.
Be prepared for changing weather conditions and pack appropriate clothing and gear.
Familiarize yourself with local boating laws and regulations.
Don't leave trash behind – follow the leave no trace principles.
Avoid camping near the edge of your watercraft, as it may cause instability and potential accident.
Boat camping, complete with a specialized tent, is a captivating and unconventional way to explore nature. Whether you're navigating serene lakes, traversing winding rivers, or island-hopping along a sun-kissed coast, a boat camping tent will serve as a steadfast companion in your aquatic adventures.