Welcome to Campiffy's super guide to the very best waterproof tents available right now. Whether you need a large shelter for family camping fun or a small, lightweight one for your adventurous trips in the wilderness, we've done all the hard work to bring you the best options.

Have you ever been in a really sturdy, totally waterproof tent during a big rainstorm? It's pretty cool. Even though there's just a thin piece of fabric between you and the rain, you stay completely dry. This is the kind of fun experience that only the best waterproof tents can give you.
Last year, we took lots of different waterproof tents for a test run, in all kinds of weather. The winner was The North Face Wawona 6. This tent was the best because it had lots of space to move around, high walls making it easy to stand, and a lot of extra storage room outside. Plus, it's not as expensive as some similar tents from other brands.
But keep in mind that The Wawona 6 might not be the perfect tent for everybody, especially if you're going on a backpacking trip and don't want to carry a tent that weighs 21 pounds. So whatever kind of tent you're looking for—whether it's lighter, smaller, cheaper, or fancier—we're sure we've got a tent on our list that you'll love.
By the end of this article, you won't just know about some of the best waterproof tents out there, but you'll also know how to pick the right one. Don't forget to check the special guide at the end that tells you how waterproof tents work.
Now, let's start checking out our favorite waterproof tents available right now!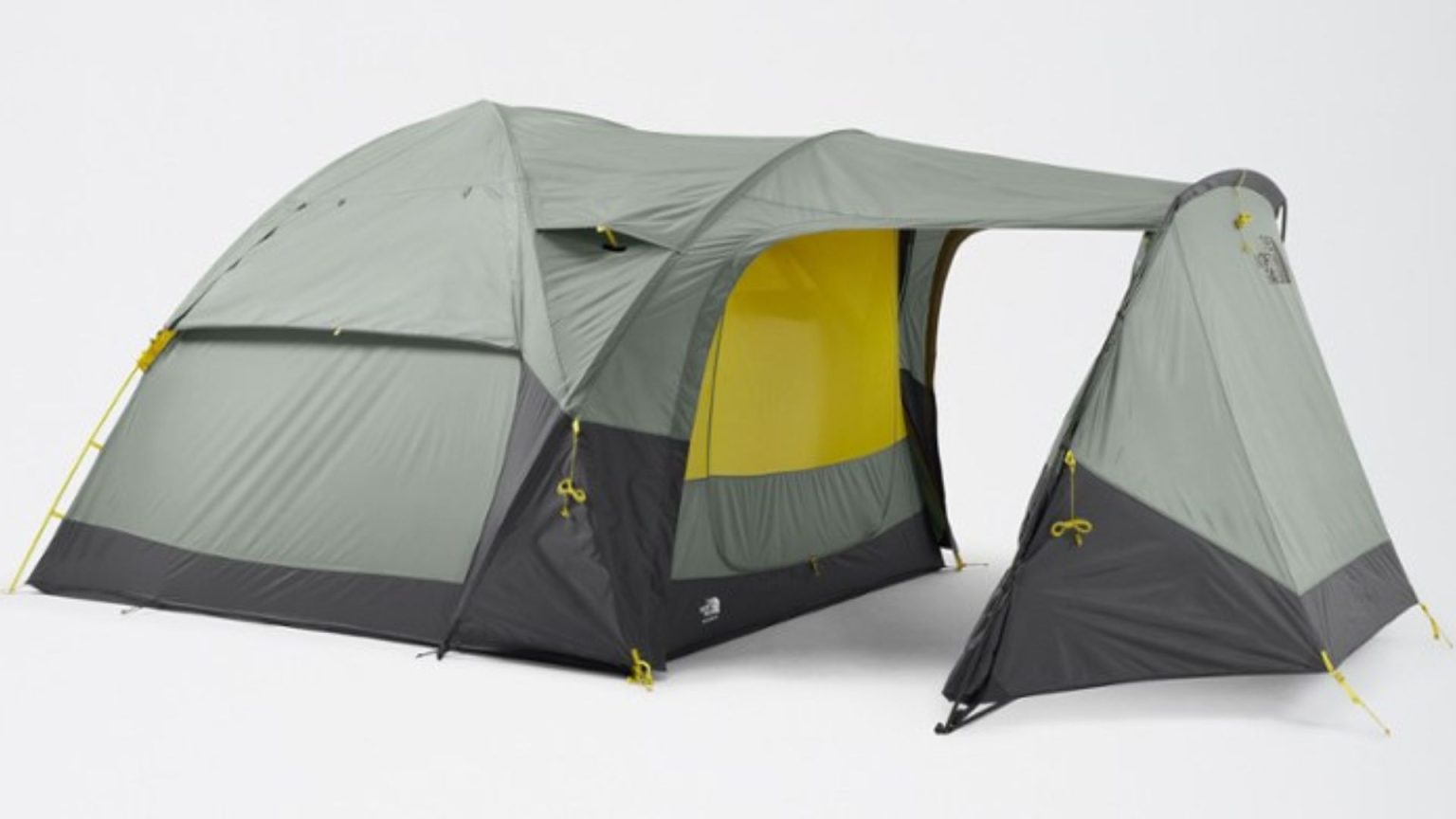 The North Face Wawona 6
Water-Resistant, Waterproof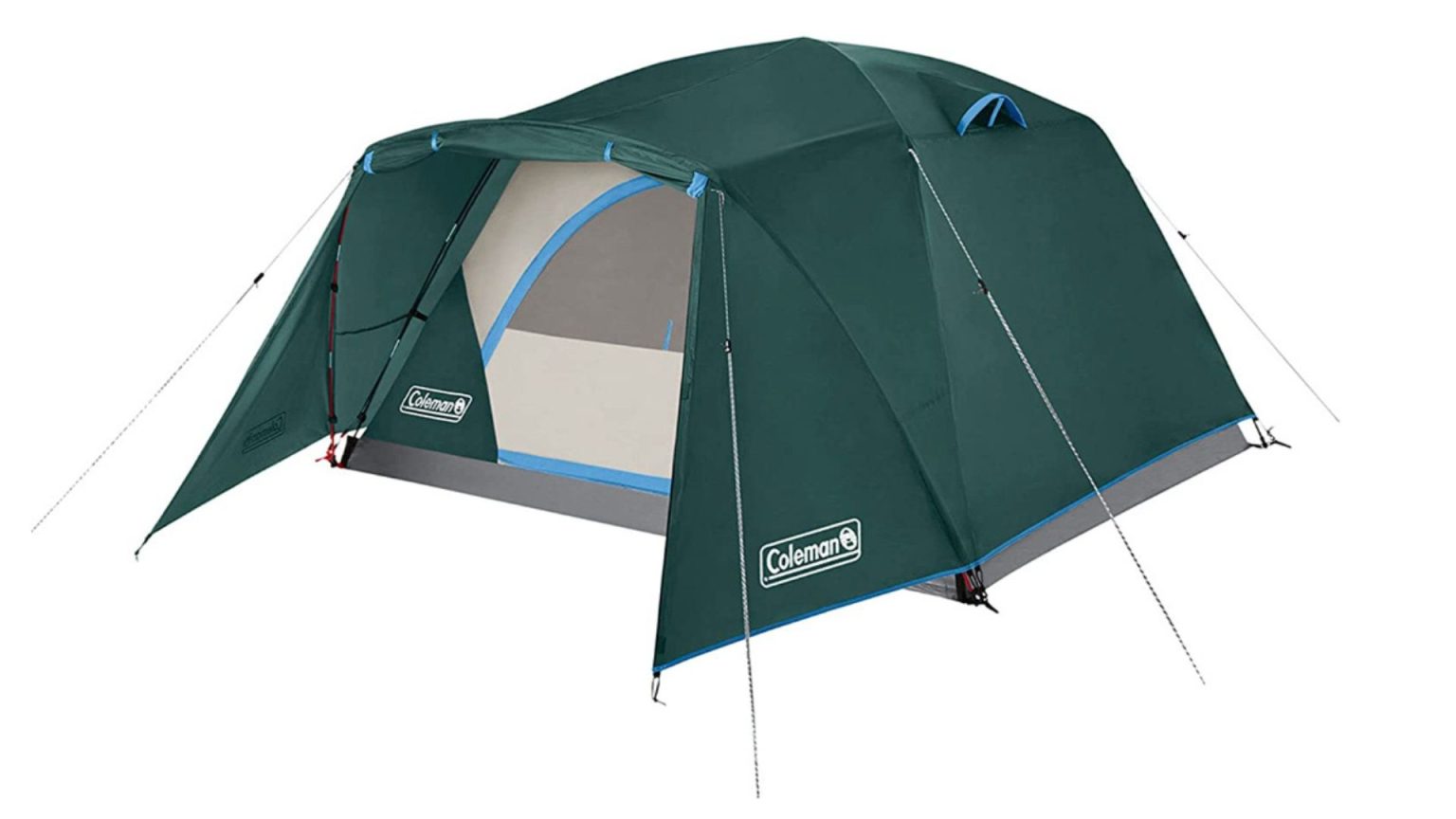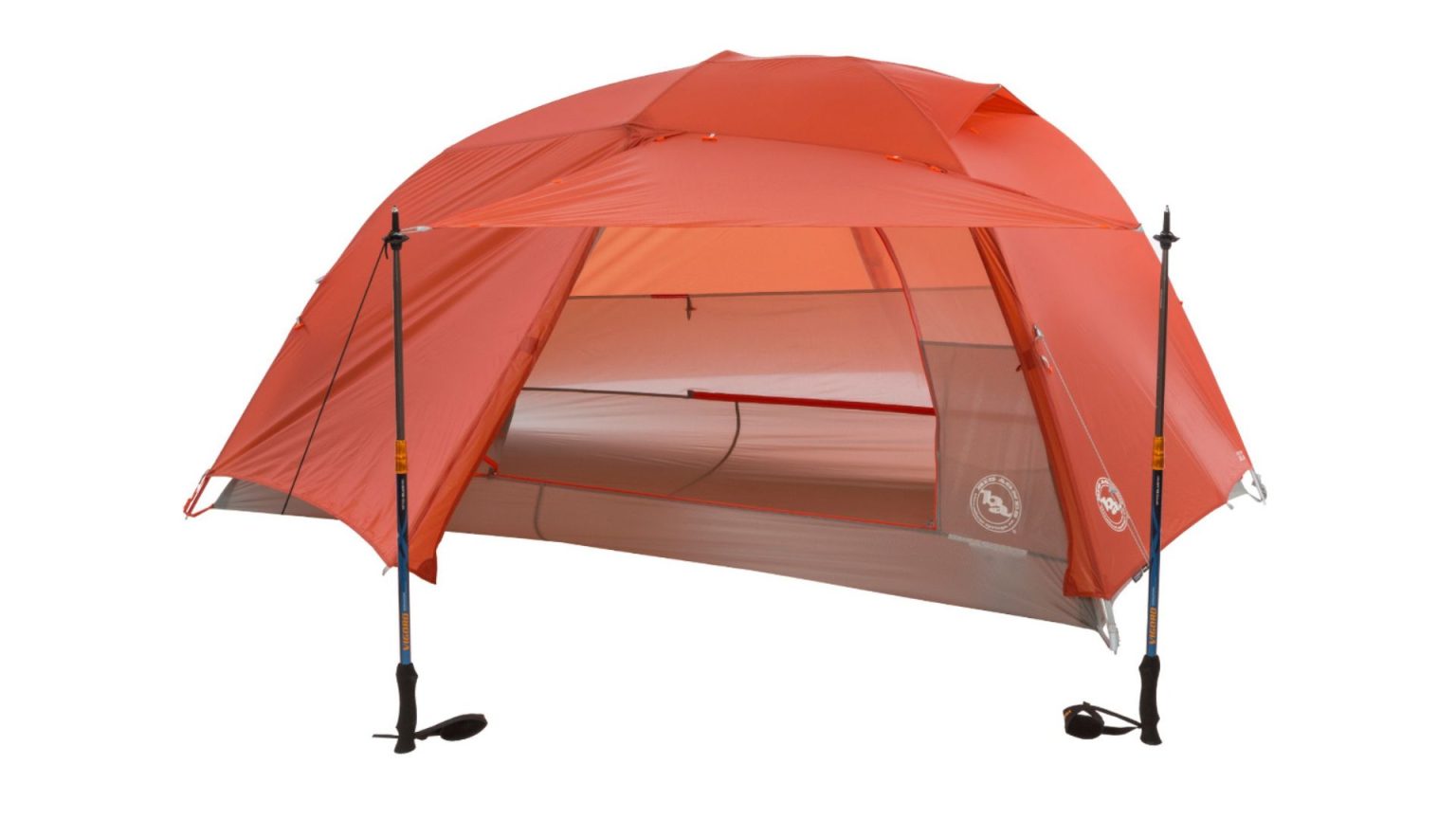 Big Agnes Copper Spur HV UL2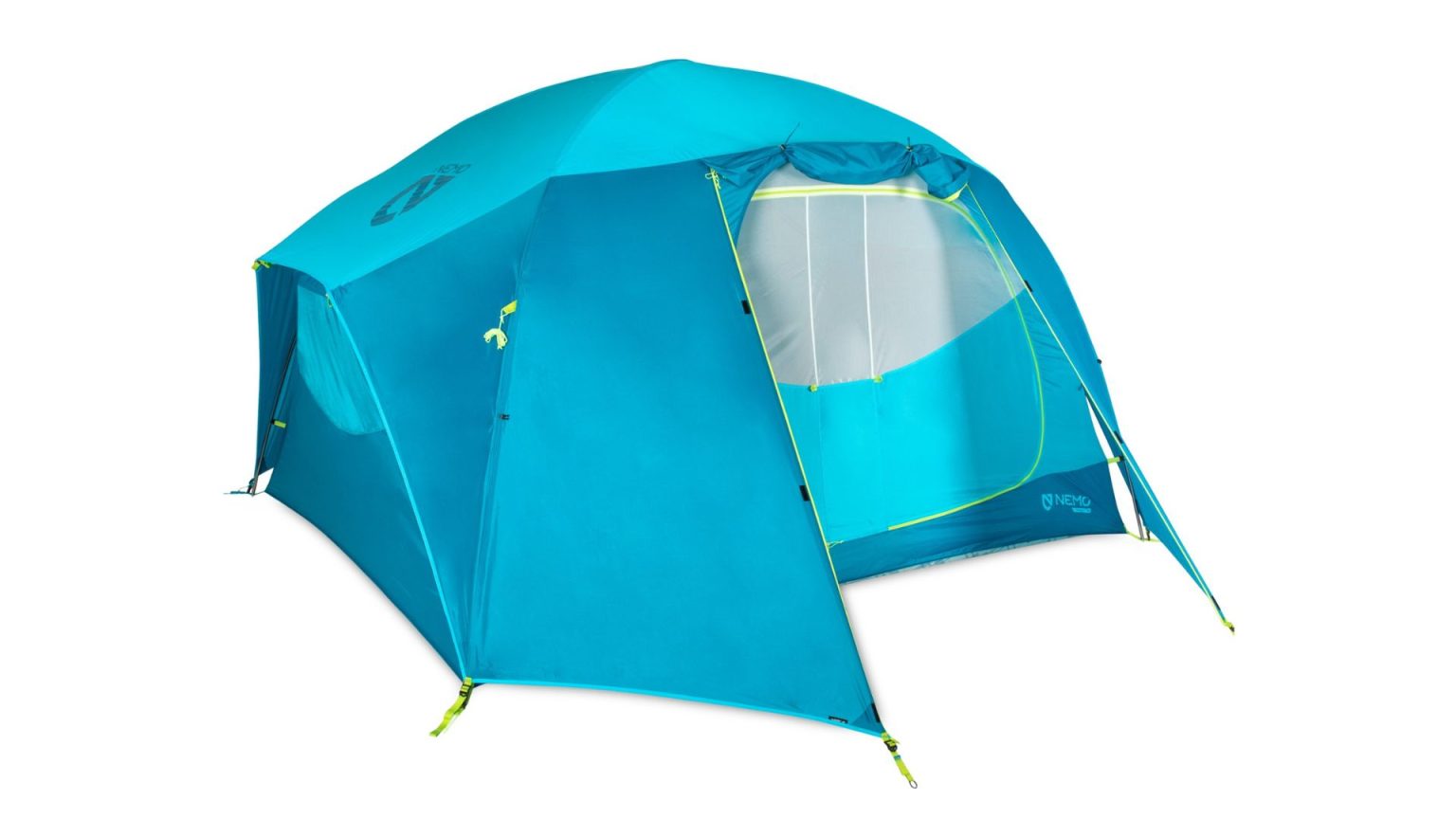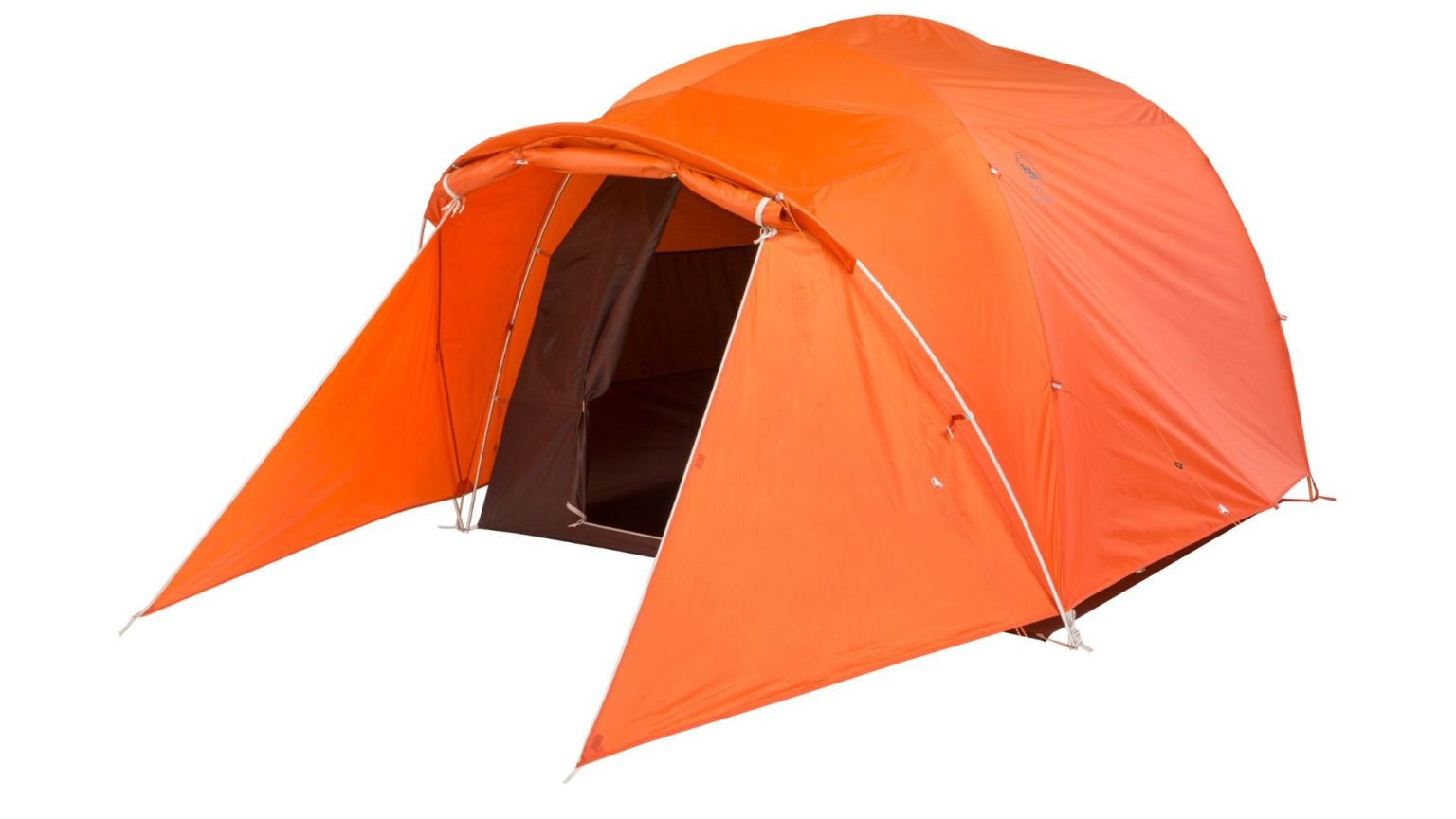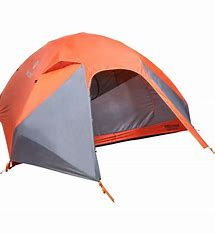 The North Face Wawona 6: Best Waterproof Tent Overall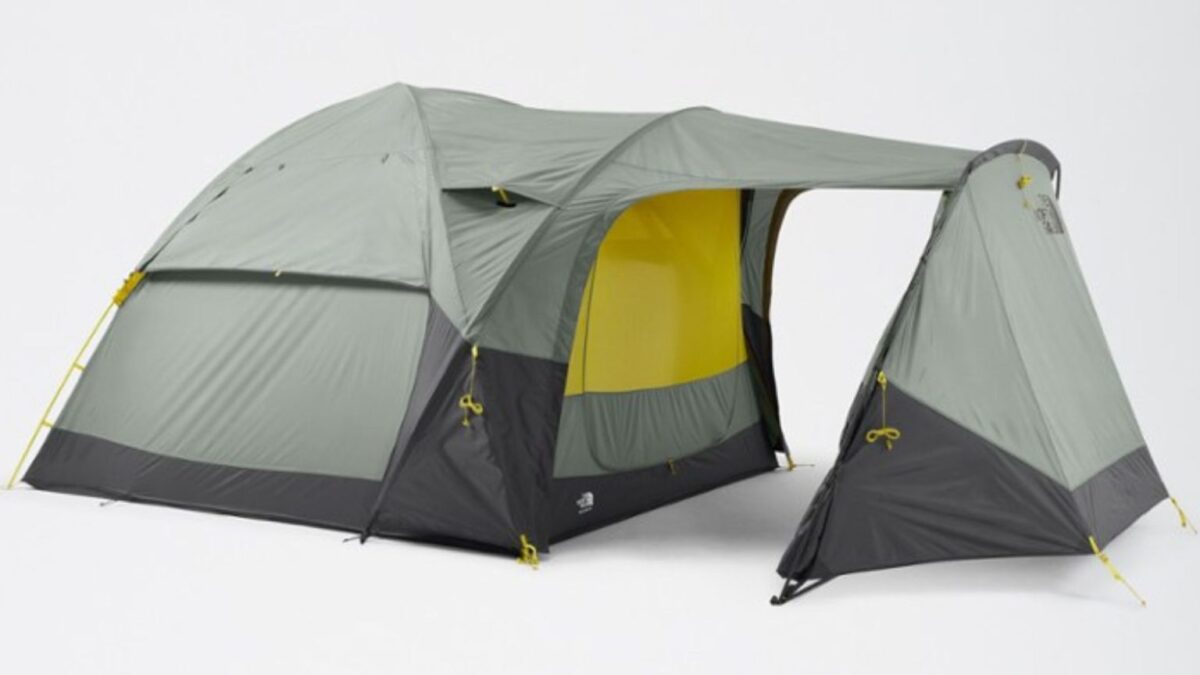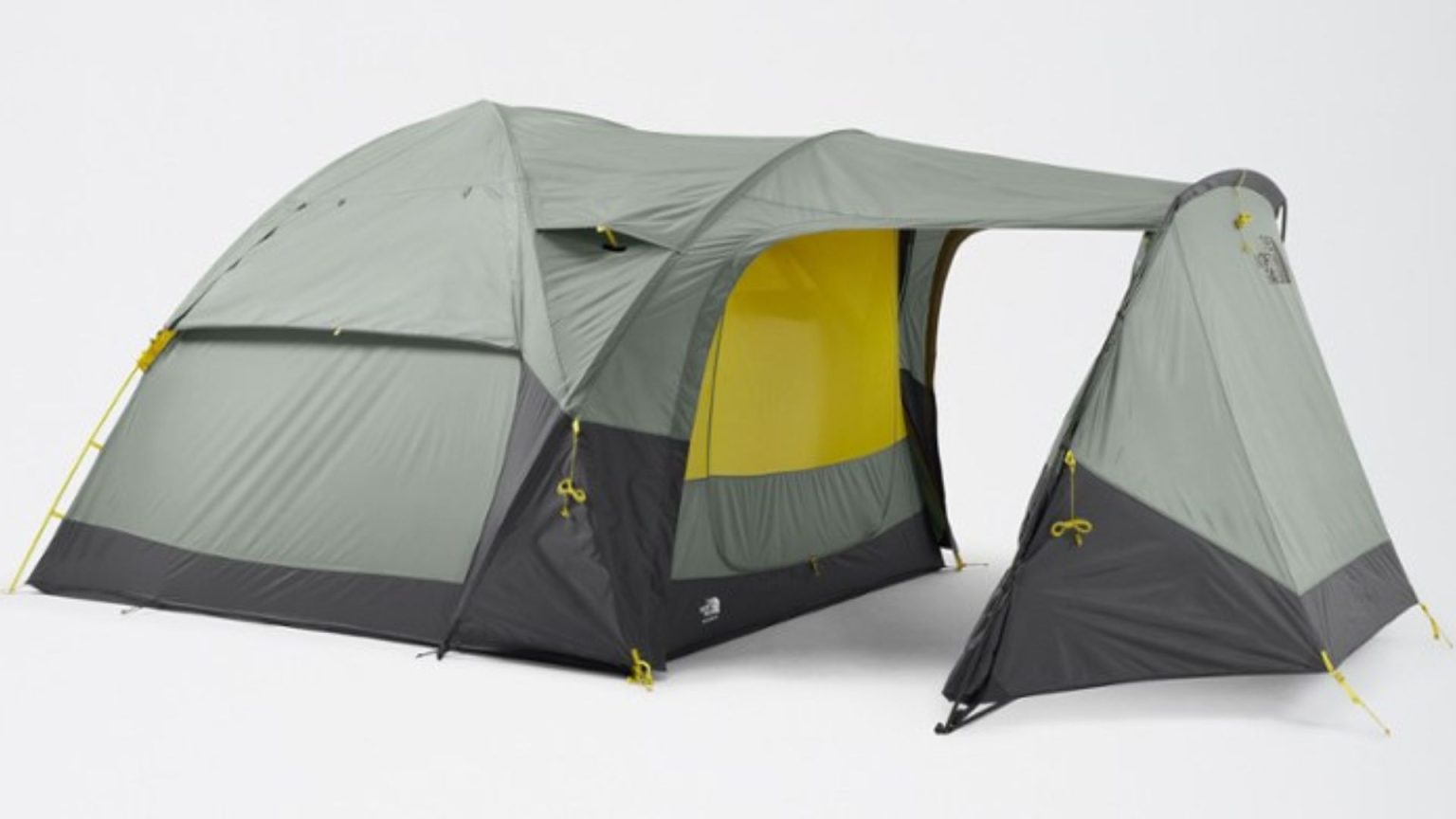 The North Face's Wawona 6 is our top pick for the best waterproof tent overall, and it's easy to see why once you take a good look at it.
First off, this tent is HUGE. Even with six people, everyone has plenty of space to sleep comfortably. The walls are tall too, so you can stand up straight inside it. And guess what? There's even more space outside under the protected storage area. It's the perfect spot to keep your shoes, backpacks, or anything else you don't want to bring inside the tent.
One really cool thing about the Wawona 6 is that it's really, really good at keeping water out. We used this tent in lots of rainstorms, and not once did we get wet. The secret is in the waterproof fabric and the smart design that keeps rain from getting in.
Imagine being inside this tent during a big storm. You hear the rain pounding on the roof, but you're dry and cozy inside, maybe reading a book or playing a game. That's what camping with the Wawona 6 is like!
Now, the Wawona 6 is not the lightest tent out there. It weighs 21 pounds, to be exact. But what you get for that weight is a sturdy, reliable tent that can fit a whole family and keep everyone dry in even the rainiest weather.
The other good news is the price. The Wawona 6 is not as expensive as some similar tents from other brands. So, not only do you get a fantastic waterproof tent, but you save some money too. What's not to love about that?
So, if you're looking for a big, sturdy tent that can keep a whole family safe and dry, The North Face Wawona 6 would be a great pick!
Roomy interior with lots of neat features
Big outside storage space for gear
Gives you a lot of bang for your buck
Setup is longer due to extra poles
Coleman Skydome 4: Best Waterproof Camping Tent On A Budget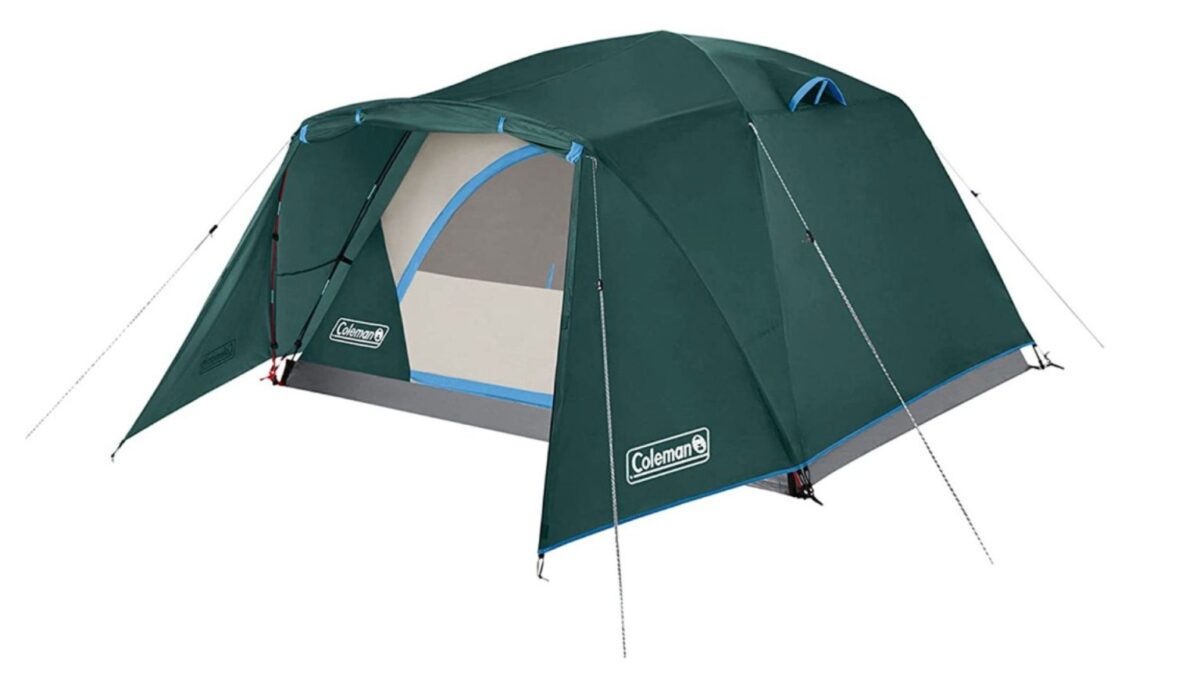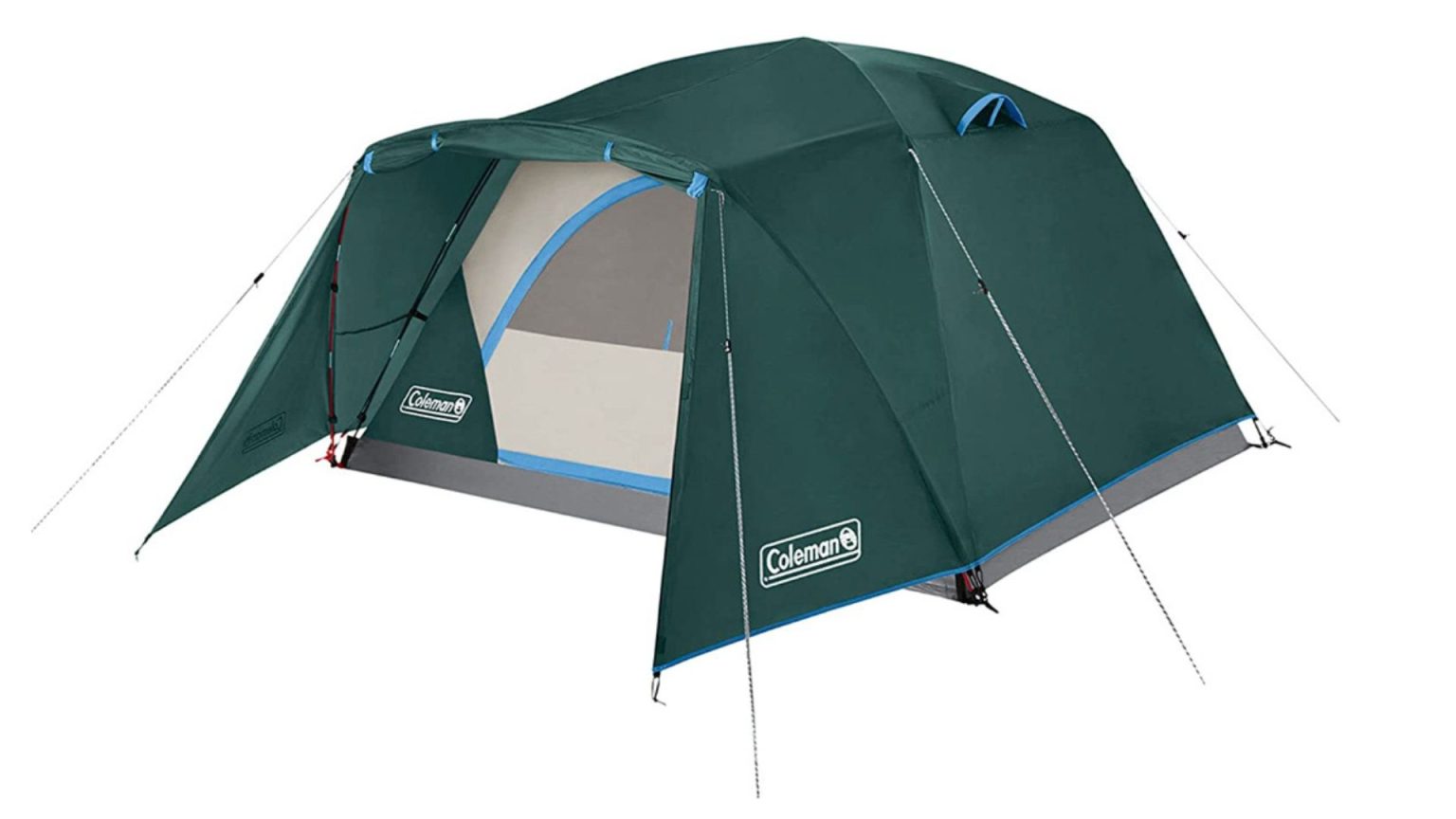 If your camping needs require a mix of affordability and weatherproof safety, the Coleman Skydome 4 is a fantastic choice. While it offers a smaller space, it still comfortably fits four people, making it perfect for smaller families or close-knit groups of friends.
The Skydome's design is all about ease and simplicity. The innovative design makes setting up less of a task. In fact, this tent can be set up in less than 10 minutes. Think about the extra time you'll have to enjoy your camping trip!
Importantly, for a tent in its price range, it does an impressive job of keeping you dry. Its solidly constructed to withstand even strong winds, and the waterproof fabric helps keep rain at bay.
Despite being budget-friendly, the Skydome doesn't compromise on features. It has a low-profile vent to allow fresh air to circulate, keeping the interior comfortable and less stuffy.
Overall, the Coleman Skydome 4 offers extraordinary value for money. By providing a proper balance of price, function, and size, it has proven itself to be the top budget-friendly pick for a waterproof camping tent.
Affordable yet offers great waterproof protection
Simple, quick setup
Compact but comfortably sleeps four
Has low-profile vent for better ventilation
Not for larger groups or families
Less storage space compared to larger models
Big Agnes Copper Spur HV UL2: Best Waterproof Backpacking Tent Overall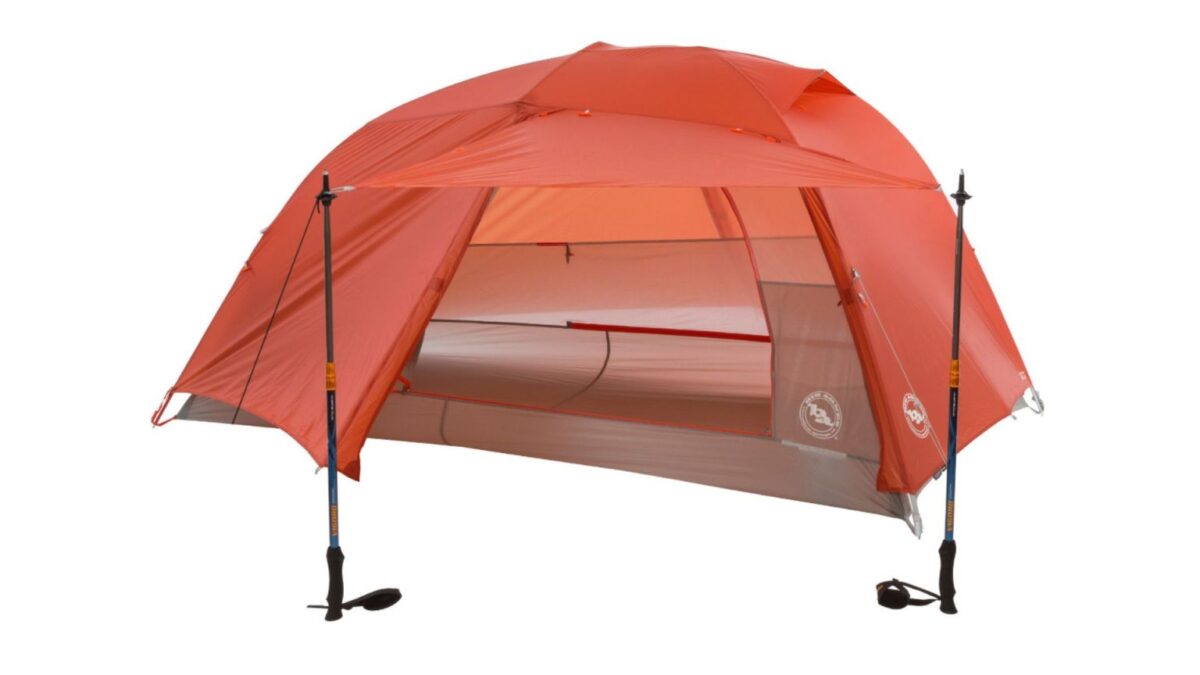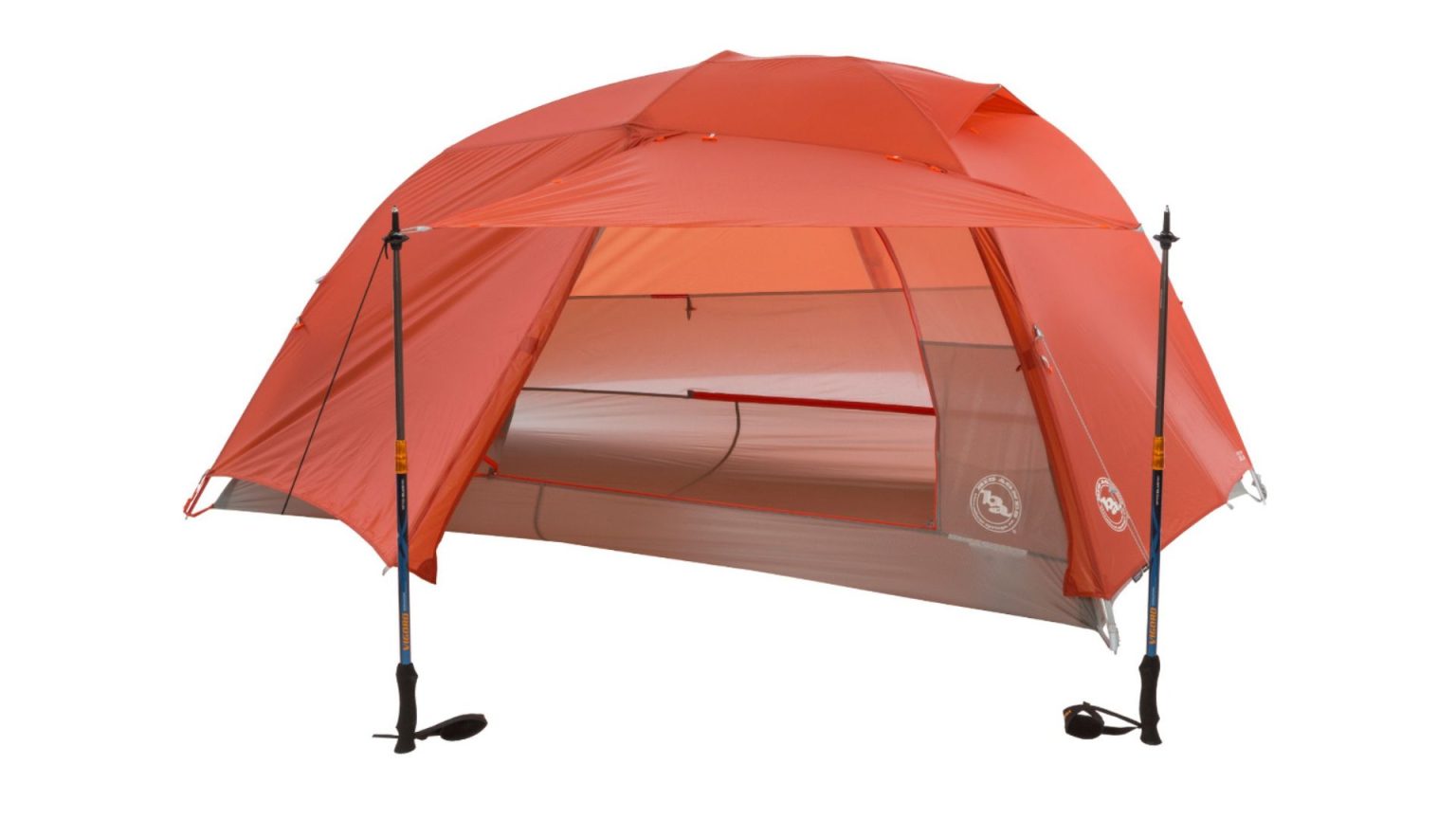 For backpackers seeking a lightweight and waterproof solution, look no further than the Big Agnes Copper Spur HV UL2. Combining a high-performance design with impressive water resistance, this tent hits all the right marks for backpacking enthusiasts.
With enough room for two people, Copper Spur HV UL2 offers comfort while maintaining its ultralight status. Weighing only 3.09 lbs, it won't weigh you down on your trekking adventures, and its compact size makes it easy to pack.
One of Copper Spur HV UL2's biggest selling points is its high-quality waterproofing. Made with double ripstop nylon fabric, it provides excellent shelter from rain, wind, and other harsh weather elements. Additionally, the tent's ultralight, waterproof, and sturdy DAC Featherlite NFL pole system offers needed support without adding unnecessary bulk.
You'll love the tent's interior, as well. The high-volume design ensures space optimization, allowing for steep walls, ample headroom, and easy movement inside. Convenience is a priority, demonstrated by gear storage options and media pockets that cater to the modern backpacker.
Setting up the Copper Spur HV UL2 is a breeze thanks to its color-coded hub and pole system. The effortless process means more time spent exploring the great outdoors.
The Big Agnes Copper Spur HV UL2 is a prime example of a lightweight, waterproof backpacking tent. Its design, features, and durability make it a top choice for any backpacking adventure.
Lightweight design, perfect for backpacking
Superior water resistance
Spacious interior with storage amenities
Easy setup with color-coded system
More expensive than some other options
Not suitable for larger groups or families
Nemo Aurora Highrise 6: A Spacious and Versatile Camping Tent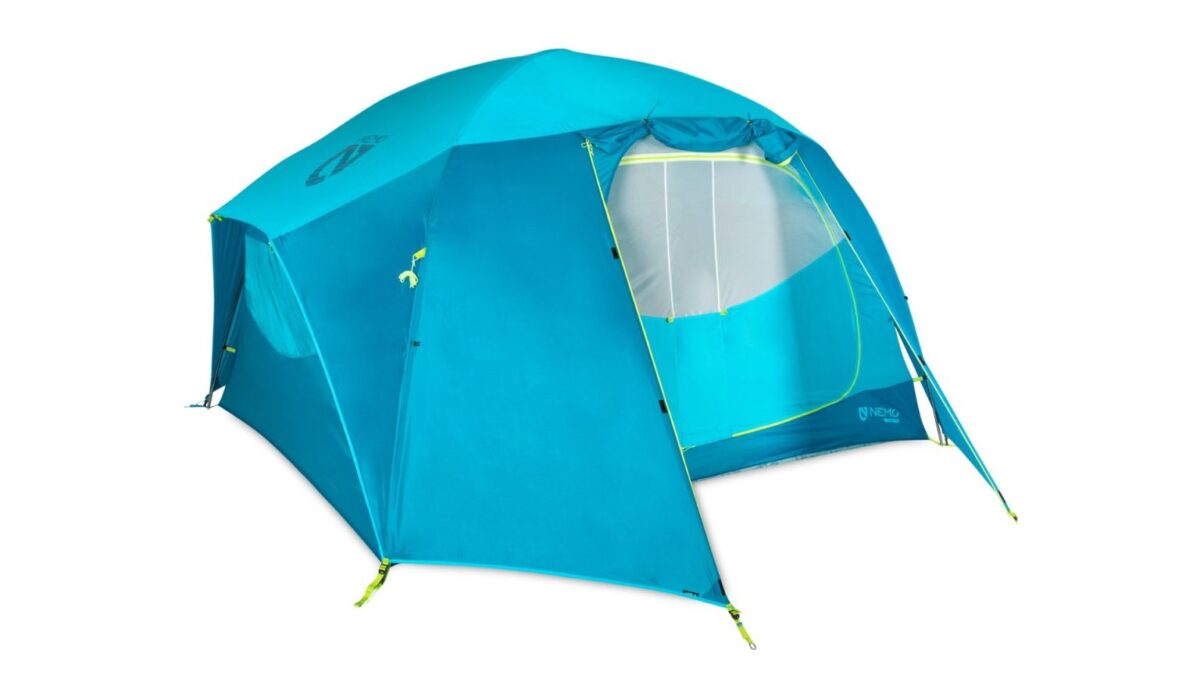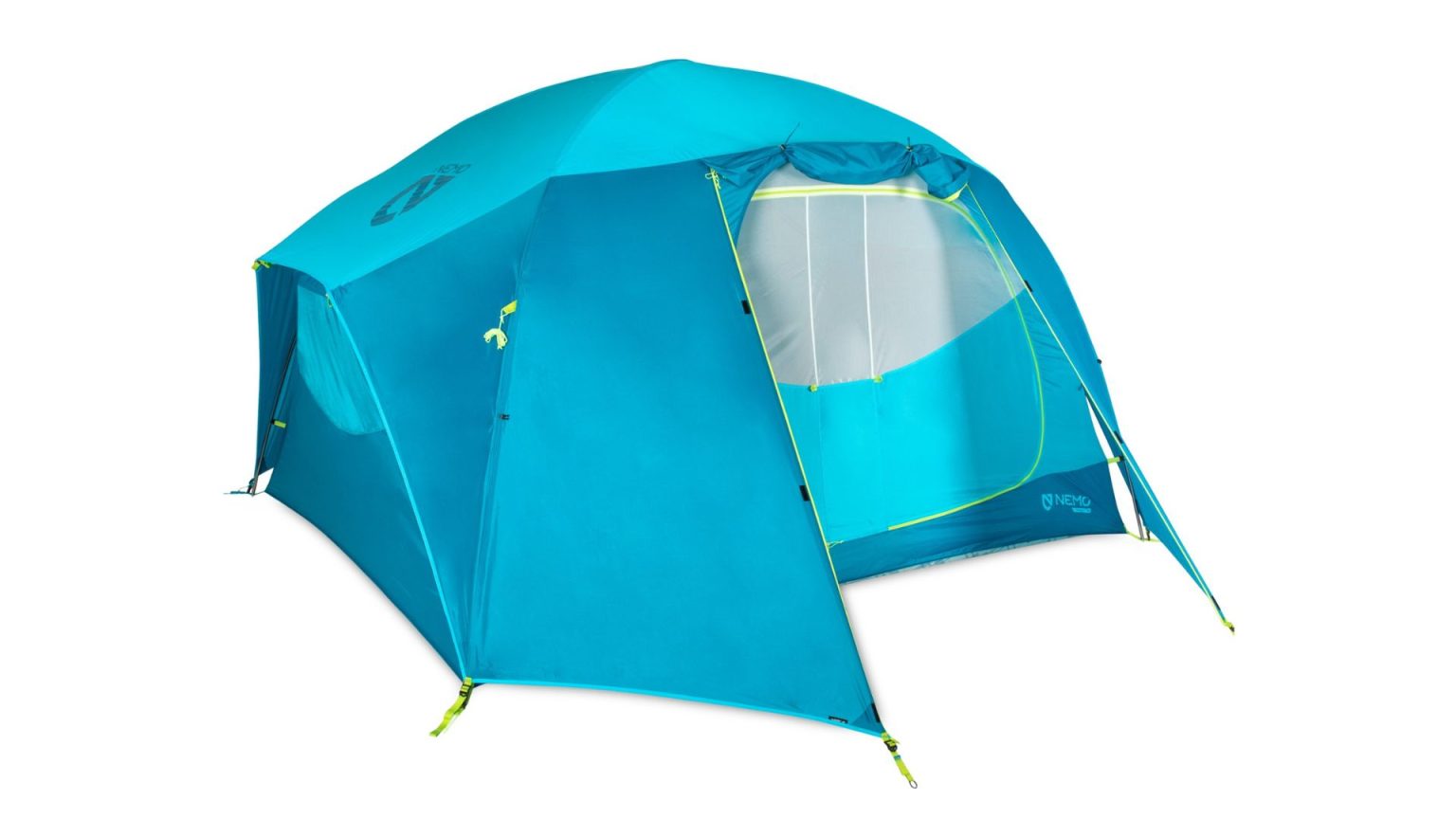 The Nemo Aurora Highrise 6 presents a compelling choice for those on the hunt for a spacious and comfortable camping tent. Its combination of generous interior room, unique features, and good resilience equates to an ideal camping experience for groups or families.
Comfortably sleeping six people, you'll appreciate the plentiful room provided by this tent. Its distinctive pre-bent pole design creates near-vertical walls, resulting in a more roomy and livable space. This increase in height and volume ensures easy movement in the tent and ample space for your camping gear.
The tent's two large doors improve access and egress, thereby minimizing the likelihood of disturbing others when entering or exiting. With two substantial vestibules, there's abundant storage space for everyone to stash their gear with ease.
Another significant aspect of the Nemo Aurora Highrise 6 is its resilience. The durable materials used in its construction bolster its ability to stand up well to various weather conditions. However, the tent stands out with its removable 'Highrise' feature – an additional layer that provides extra warmth and condensation control.
The setup process is not overlooked either. Its color-coded poles and webbing ensure that pitching this tent is a hassle-free task, even for less experienced campers.
The Nemo Aurora Highrise 6 delivers on the promise of a comfortable, spacious, and versatile camping experience, making it an excellent selection for camping trips of all varieties.
Exceptional interior space and comfort
Highly resilient design with a 'Highrise' feature for additional warmth
Convenient dual doors and vestibules
Easy setup with color-coded features
Size may make it less suitable for backpacking
Heavier weight compared to smaller tents
Big Agnes Bunk House 4: Family-Friendly Tent with Home-Like Comfort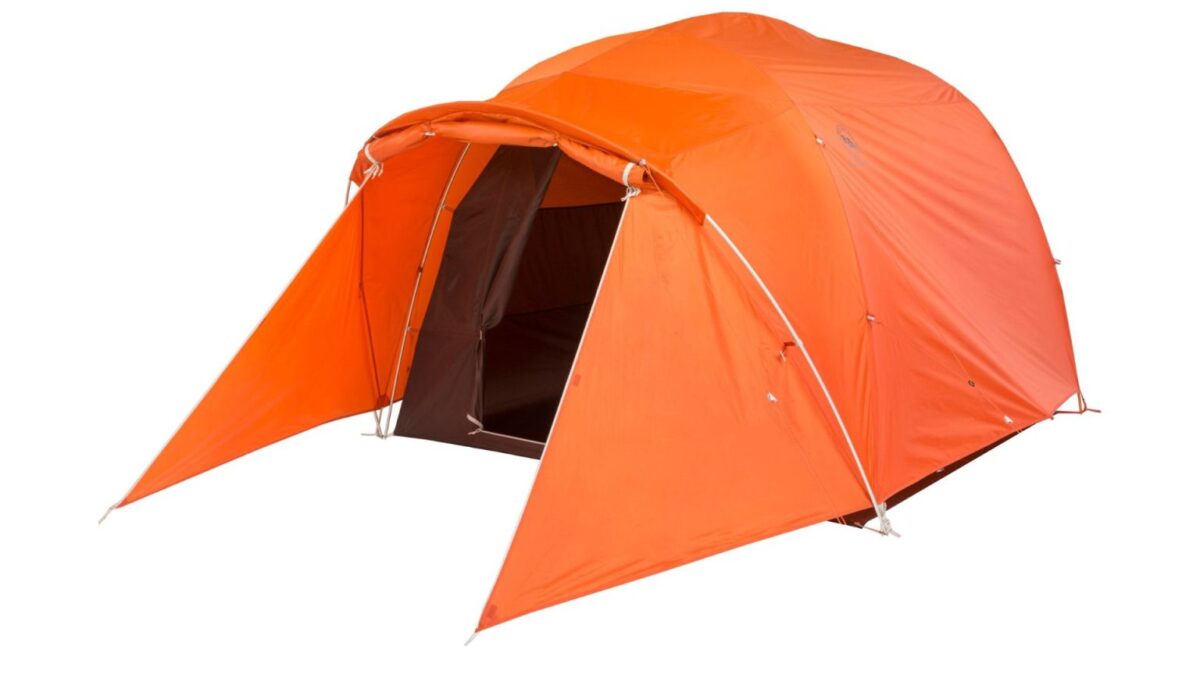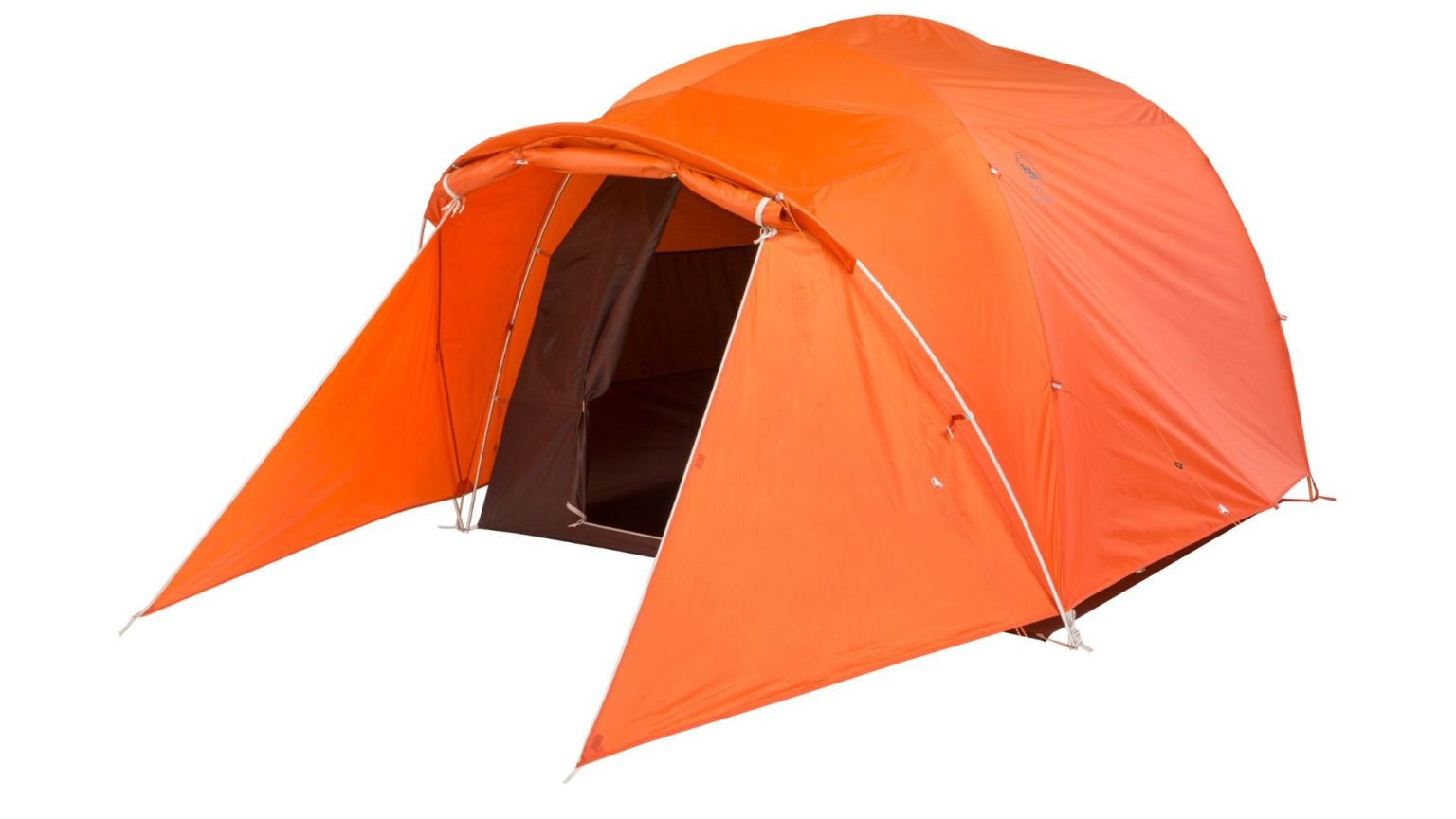 The Big Agnes Bunk House 4 introduces a new level of comfort and convenience for campers in search of a tent that feels like a home away from home. With its emphasis on space, durability, and innovative features, this tent is ideal for families and groups.
One of the standout aspects of the Bunk House 4 is its generous space. It can easily accommodate four people, providing everyone with ample room to relax and sleep. Steep walls and a nearly-vertical design create a spacious feel, making the tent even more inviting and comfortable.
Accessibility is another key feature of the Bunk House. The dual doors, coupled with large vestibules, give effortless access to the tent while offering considerable storage space. This design is particularly advantageous for families with children or larger groups.
The tent is also built to withstand a variety of weather conditions. Its high-quality and sturdy materials, along with a thoughtful design, ensure durability and resistance against wind and rain. The tent's ample ventilation is an added benefit, keeping the interior fresh and comfortable.
Big Agnes recognizes the importance of setup simplicity, incorporating a hub pole design which streamlines the process. Even novice campers will find pitching Bunk House 4 an uncomplicated task.
The Big Agnes Bunk House 4 provides a delightful mix of space, comfort, and practicality. It's the ideal choice for families and groups seeking a high-quality tent that feels like home while exploring the great outdoors.
Ample space and comfort for up to four people
Dual doors and spacious vestibules for convenient access and storage
Durable materials ensure weather resistance
Easy and simple setup with hub pole design
Weight and size may make it less suitable for ultralight backpacking
Higher price compared to more budget-friendly options
Marmot Tungsten 4P: Best Waterproof Hybrid Tent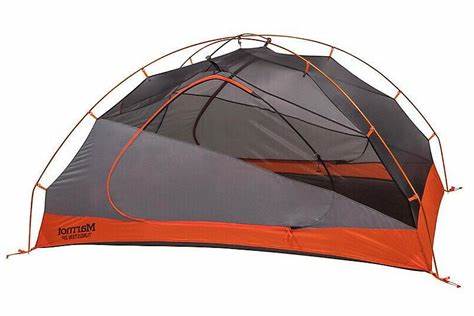 The Marmot Tungsten 4P showcases a blend of desirable features in a fantastic hybrid camping/backpacking package. Durable, dependable, and offering top-notch waterproofing, this tent is well-suited to both recreational camping and more adventurous excursions.
The Tungsten 4P's domed structure can comfortably accommodate four people, allowing for a spacious interior that optimizes living and storage space. Pre-bent poles and strategic clip placement result in a more vertical wall, creating an inviting, roomy environment for occupants to enjoy.
One of the highlights of the Tungsten 4P is its exceptional waterproofing capabilities. With a full-coverage polyester rainfly boasting a decent 1500mm waterproof rating and a bathtub floor with seam taping, this tent provides reliable shelter from heavy rain and dew.
The tent doesn't compromise on durability, either. Made with sturdy aluminium poles and high-denier fabric, it can stand resilient in the face of challenging weather conditions. Simultaneously, it also remains reasonably lightweight, making it a favorable option for backpacking trips.
Inside the tent, storage pockets and a gear loft highlight the attention paid to convenience and comfort. Adding to this, the dual doors and vestibules allow for easy entry, exit, and gear access.
Even assembly is easy for this tent due to its color-coded "Easy Pitch" poles and clip system, getting your campsite set up quickly and without confusion.
Ultimately, the Marmot Tungsten 4P offers a superb blend of camping comfort and backpacking sensibility. Its substantial waterproofing, space, and durability make it a wise choice for all types of outdoor adventures.
A hybrid design fit for both camping and backpacking
Excellent waterproofing capabilities
Comfortable and spacious living space
Durable yet reasonably lightweight
Easy setup with color-coded system
May not withstand extreme weather as well as dedicated four-season tents
Pack size might be a bit bulky for long backpacking trips
Conclusion
Choosing the perfect tent ultimately boils down to identifying your individual camping or backpacking needs. While some favor portability and budget-friendliness, others may prioritize space, comfort, and sturdiness for year-round use.
From the budget-friendly yet competent REI Co-op Trail Hut 2 to the spacious and family-friendly Big Agnes Bunk House 4 or the four-season champ, Mountain Hardwear Trango, there are options to fit every need and scenario.
The versatile Nemo Aurora Highrise 6 stands out with its extra warmth and condensation control, while the hybrid Marmot Tungsten 4P offers an impressive balance of camping comfort and backpacking portability with excellent waterproofing capabilities.
Whether you are an occasional summer camper, a year-round alpine adventurer, or a part of a large family that cherishes outdoor bonding, this review can guide you through selecting the tent that will serve you best on your next outdoor adventure. As always, remember to respect nature and practice responsible camping habits to ensure that we can all enjoy the great outdoors for generations to come.