Experience the ultimate luxury and charm of Saseka Tented Camp, a one-of-a-kind safari destination situated in the heart of the Thornybush Game Reserve, part of South Africa's Greater Kruger area. Positioned alongside the serene Monwana River, Saseka Tented Camp promises a unique and unforgettable adventure, attracting visitors from all corners of the globe to discover the authentic essence of the African wilderness.
Location: The Thornybush Game Reserve
Saseka Tented Camp is situated in the private Thornybush Game Reserve, which stretches across 14,000 hectares of the unspoiled African savanna. This spectacular location is easily accessible by air via the Hoedspruit Airport or by road through the Kruger National Park. The reserve boasts diverse terrain, including rolling plains, riverine bush, and dense woodlands, providing a thriving habitat for a myriad of wildlife species.
Luxurious Accommodation Amidst Nature
The opulent "Luxury Tented Suites" at Saseka redefines elegance, seamlessly blending modern comforts with the authenticity of traditional African safari tents. Each suite is designed to provide guests with an exclusive view of the Monwana River, allowing for a personal and unspoiled connection with the surrounding nature. The suites come equipped with lavish amenities, such as private plunge pools, outdoor lounge areas, air conditioning, sumptuous ensuite bathrooms, and uniquely crafted furnishings.
Experience Thrilling Wildlife and Safaris
Saseka Tented Camp offers unforgettable opportunities to witness an incredible variety of African wildlife, including the iconic Big Five – lions, elephants, leopards, buffalos, and rhinoceros. Guests can embark on guided morning and evening game drives with experienced rangers, who will introduce them to the beauty and complexity of the African bush. For those who seek a more intimate exploration, guided bush walks provide the chance to admire the breathtaking landscape, track animal spoor, and learn about the intricate ecosystem in greater detail.
Savor Delectable African Cuisine
At Saseka Tented Camp, the culinary experience is as delightful as the surroundings. Guests can indulge in a fusion of traditional and contemporary African cuisine, prepared with the freshest local ingredients. Unique dining experiences await, from enchanting outdoor bush dinners beneath the crisp night sky to serene riverside dining where the only interruption comes from the sounds of nature.
Unique Experiences: Unleash Your Adventurous Spirit
Saseka offers a range of unique, unforgettable experiences tailored to satisfy even the most discerning guest. Gaze at the canopy of stars stretched across the African night sky during stargazing sessions, or dedicate time to appreciate the abundant birdlife while birdwatching. For those in need of relaxation, luxurious spa treatments are available, promising to restore both the body and soul.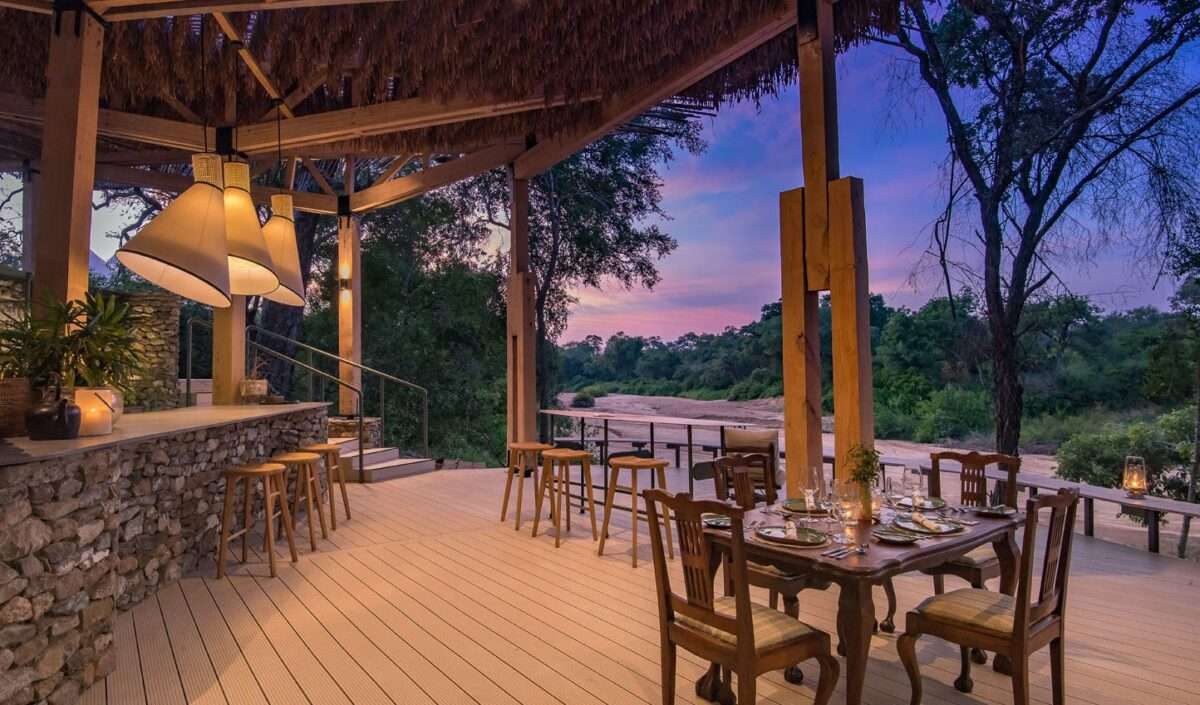 Sustainability Measures at Saseka Tented Camp
Saseka Tented Camp not only provides an unparalleled luxury safari experience but also walks the talk when it comes to sustainability and conservation. The camp follows rigorous eco-friendly practices, ensuring that its operations cause minimal disturbance to the neighboring ecosystem. Solar power is utilized for power needs, and locally sourced, sustainable materials were used to build the camp, affirming their commitment to the environment.
Cultural Experiences
Experience South Africa's rich cultural heritage beyond the wildlife and natural beauty. Saseka has ties with local communities and provides opportunities for guests to immerse themselves in local culture. This can include a visit to a traditional village where you can meet local tribes, learn about their traditions, and participate in cultural activities, offering a unique perspective on life in this vibrant country.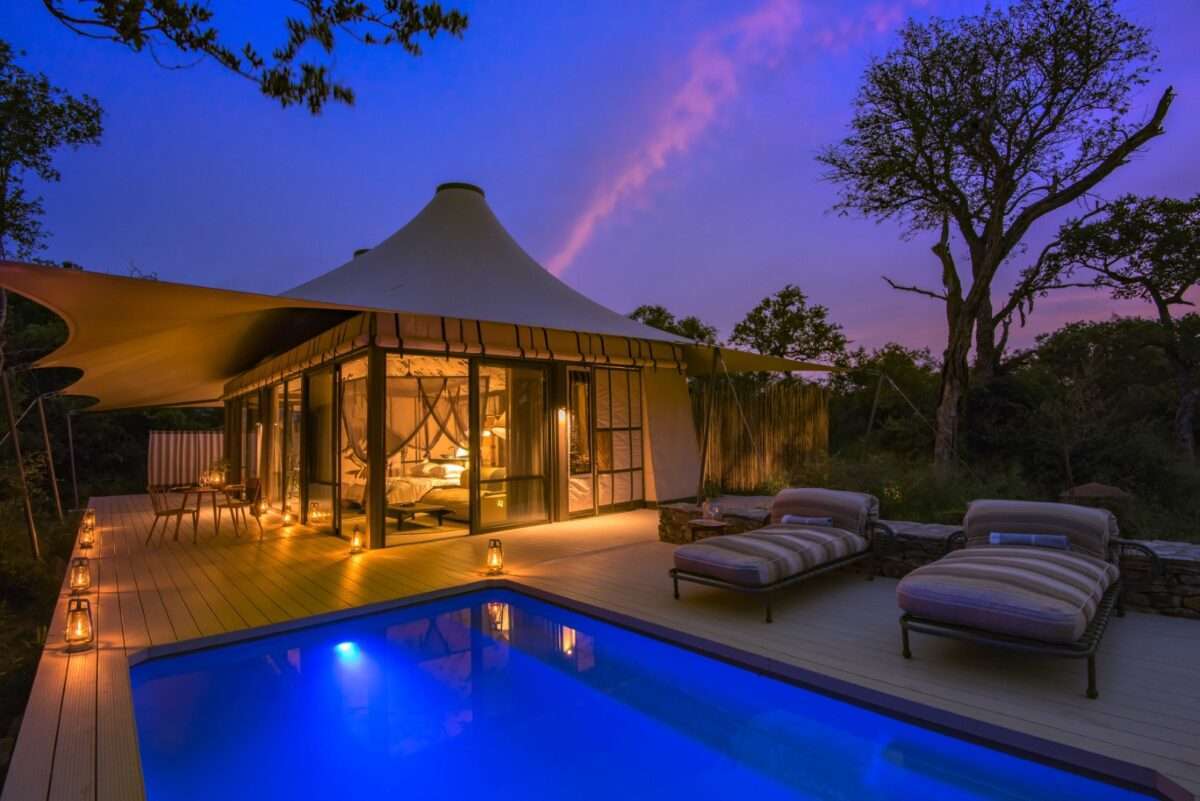 Spectacular Landscapes and Views
At Saseka, guests are treated to the utmost exclusivity and unspoiled views of South Africa's spectacular landscapes. The camp's strategic location offers panoramic views over the majestic Drakensberg Mountain Range and lush riverine woodland, delivering an unforgettable sunrise and sunset experience. There's nothing like sipping on a cocktail from the comfort of your private deck as the African sun dips below the horizon.
Exceptional Customer Service and Personalized Attention
Saseka Tented Camp believes in creating an intimate and fulfilling experience for its guests. The dedicated concierge team at the camp is always available to ensure that every guest's need is met. This personalized attention, from customizing dining experiences to arranging spontaneous surprises or fulfilling unique guest requests, embodies the exclusive and luxurious feel of the camp.
Romantic Getaways
One could also mention how perfect Saseka is for romantic retreats: with secluded tents separated by natural vegetation, couples can enjoy privacy amidst nature. There's nothing more romantic than a dinner underneath the sprawling African starry sky, or a private plunge pool session after a day full of safari adventures.
Saseka Tented Camp invites you to embark on an extraordinary journey in the heart of the African wilderness. Delight in the luxury of the tented suites, marvel at the incredible wildlife encounters and revel in the exceptional experiences that await at every turn. Don't miss this opportunity to create lasting memories and stories to share for a lifetime. Book your stay at Saseka Tented Camp today!